Want to import products from China Efficient, Easier, Safer?
When you want to import products from china and don't know how to search for reliable manufacturers, how do you go about it?
As the best china sourcing agent, we will help you find a factory, custom samples, get the best competitive price, high quality, order' follow-up, quality inspection, logistics solution to your door.
Everything is a one-stop China import agent. You don't need any experience, no hidden fee, all products purchasing from China suppliers. Let us know your buying request, and we will help you get the desired items.
18 Years Import & Export Professional Experience In China
1000+ Square meter Free warehouse
2500+ Satisfied Customers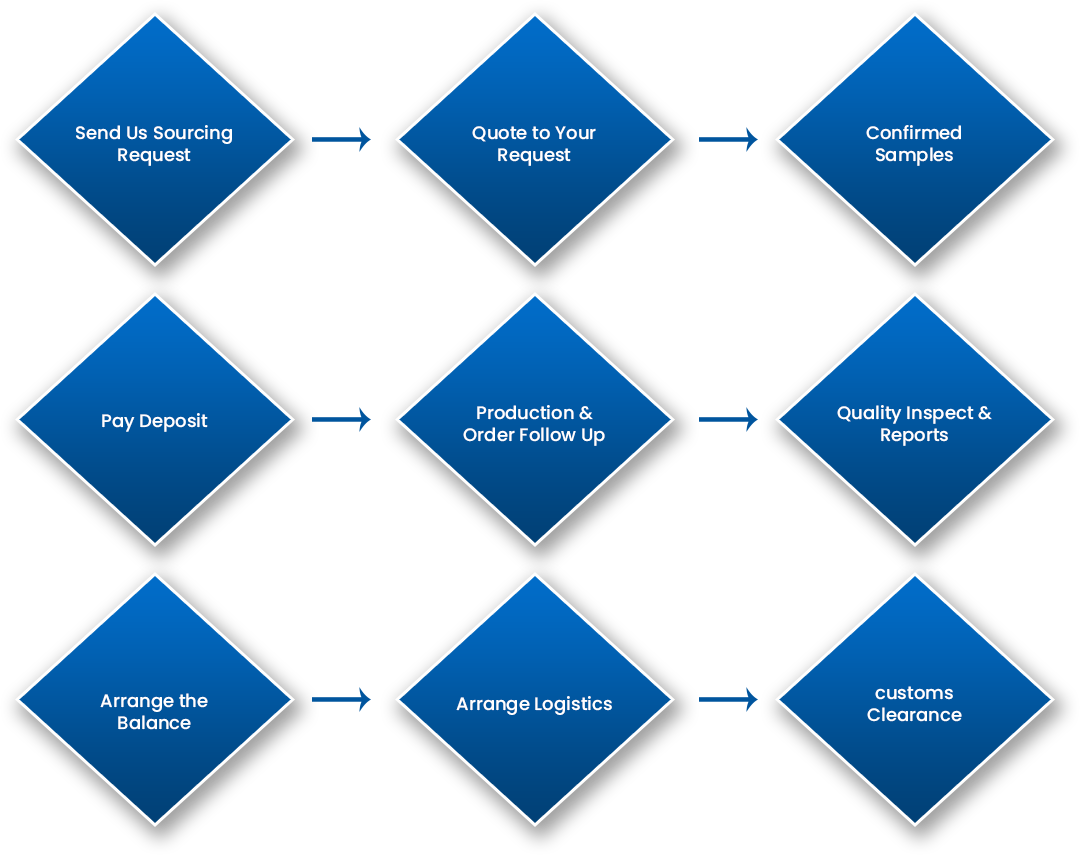 Why Choose Huntersourcing
Collect products information and quote is free

The Professional china buying agent Team more than ten years

High sense of responsibility and safety, efficient response, 7×24 hours reply email, 2days get quote list

Competitive Price and Wide range of products and services sourcing agent in china

Sincerely help customers grow their business to achieve a win-win situation

One-Stop Solution & Supply Chain management from sourcing products to shipping door-to-door China sourcing agent for client solve everything about import from china

Huntersourcing offer 60days free warehouse for clients

Product solutions and private brand customized services
We had worked with Huntersourcing for more than two years, they were a very professional team and help me solve all about china import, good service, competitive prices, and fast response to my inquiries. I am satisfied with the quality of their sourcing products .help us save many time and money, thanks for Huntersourcing, we will continue to cooperate with them in future
Before cooperating with Huntersourcing, we found many Chinese purchasing agents in Shenzhen and Guangzhou, but for various reasons, we did not cooperate until we found Huntersourcing in Zhejiang, China. They were very professional from the beginning and patiently answered my multiple questions. One-to-one service, no matter how complicated the problem is, help find a solution. So far, we have been working together for one year, and I am delighted with their excellent service, reasonable commission. Thank you for the help, and as always, I strongly recommend them.
HunterSourcing is a reliable Chinese purchasing agent and supply chain management company. They helped with our custom products and brand design. Our experience with them was appealing as they strictly controlled the supplier's production process to ensure high-quality items. Furthermore, we were able to get trendy products and useful market information. The company helped us design the goods and packaging, provided reasonable opinions, and reduced logistics and transportation costs. Huntersourcing is our best business partner in China and has assisted grow our business by 200% in two years. Thanks again to Huntersourcing.
China Sourcing & Import Knowledge for Beginners
Not every website will provide what they promise. We have the best China Wholesale Websites to help you avoid making losses.
Importing from China is a massive business that you do not want to miss.
  1. What is a sourcing agent? 2. Sourcing Agent Vs. Sourcing Company What's