The Ultimate Guide to Choosing the Best Artificial Grass Suppliers in China: Tips and Tricks
Top 10 reliable artificial turf suppliers in China
People have realized that artificial grass requires minimal care compared to natural grass and it does not require any watering. That has increased its demand. Actually, the artificial turf market is forecasted to hit $7 billion by the year 2025, growing at a rate of 6.84 percent per year between 2020 and 2025. Apart from the minimal maintenance and water-saving benefits, other factors like weather resistance, aesthetics, and an increase in disposable income have fueled the demand.
1. Which Artificial Grass is the Best Import from China?
2. Type of Artificial Grass
3. The Benefits of Artificial Grass
4. Why Import Artificial Grass from China Artificial Turf Suppliers?
5. How to Find Reliable Artificial Grass Suppliers from China
6. How to Choose the Best Artificial Grass Manufacturers from China
7. What Certificates and Documents Do You Need when Importing Artificial Turf from China??
8. Top 10 Reliable Artificial turf Suppliers in China
8.1 Wuxi Jujia Turf Technology Co., Ltd
8.2 Jiangsu Wanyuan Artificial Grass Co., Ltd.d.
8.3 Dorelom Artificial Grass Group Co., Ltd
8.4 Yixing Forestgrass Sports Co., Ltd.
8.5 Wuxi Zhongmeng Sports Facilities Technology Co., Ltd.
8.6 Shandong Meisen Artificial Lawn Co., Ltd.
8.7 Shanghai Dracon Industry Co., Ltd.
8.8 Yantai Teny Grass Co., Ltd
8.9 Yangzhou Lvbao Artificial Turf Co., Ltd
8.10 Shandong Green Land Grass Co., Ltd.
9. Why Choose Huntersourcing as Your China Generator Manufacturers Sourcing Agent?
10. Conclusion
Europe has been dominating the artificial grass market owing to the high demand for applications like landscaping and contact sports. The contact sports section holds the largest share when it comes to applications. If you are planning to start selling artificial grass, China is the best source. However, the process of importing from China can be a challenge for beginners. Do not panic, this guide will help you do that easily.
Which Artificial Grass is the Best Import from China?
Artificial grass is made of synthetic materials to replace natural grass. Unlike natural grass, it requires minimal maintenance and remains green, regardless of the weather conditions. Manufacturers typically use polypropylene, polyethylene, and nylon to make it. It has to mimic the color, texture, and appearance of the natural grass. Further, it has to allow the users to enjoy all the benefits of a lush lawn without having to maintain it.
No artificial grass is better than the other. Therefore, the users have to consider several factors when choosing it. They have to consider the intended use, the expected foot traffic, the number of pets expected on the grass, and the needed appearance. Below are the common types of artificial grass and their applications.
Type of Artificial Grass
Each type of artificial grass is designed to help or achieve a particular thing. Below are the commonest types of artificial grass and their application.
1. Landscape Turf
This is among the commonest types of turf in the market. People use it for residential purposes. Artificial grass makes realistic-looking landscape turfs due to its availability in many colors and blades. Further, artificial landscape turfs have no shine and they help with heat reduction.
2. Indoor Artificial Grass
Indoor artificial grass is usually low-pile and not realistically made. China manufacturers offer grass in various colors for interior decoration. Some people also use it temporarily for landscaping or on their patios. Generally, they install it on a few sections.
3. Sports Artificial Grass
Sports artificial glass is made to withstand heavy sports traffic. It is used both indoors and outdoors and it offers an optimal surface for traction and the safety of players. Manufacturers make it from polyethylene material, which is durable and has a high UV rating. It does not fade after long exposure to sunlight.
4. Golf Turf
Golf turf is different from standard artificial turf because it is thin. The thin surface and tight pile allow golf balls to roll smoothly without stopping – as they roll on natural Bentgrass. More importantly, the turf stays green for a very long time.
5. Football Turf
Fake grass suppliers in China provide football turf to improve the traction of football grounds and make their surfaces safe. Their turf construction allows them to hold up to the impacts that come from falling and running. Therefore, they require less maintenance, compared to real grass.
6. Nylon Artificial Grass
Nylon artificial grass is long-lasting and outperforms many other types of turf fibers. Originally, nylon was used to make toothbrush fibers and hosiery, and women's stockings. Today, manufacturers use it to make carpets and seatbelts. Nylon artificial grass was made for the first time in 1965.
7. Recycled Artificial Grass
Recycled artificial grass is made of various materials such as polyethylene, nylon, and polypropylene. Some China fake grass suppliers also use natural materials such as broken stones to make it. Al the materials are recycled.
8. Synthetic Turf Grass
Synthetic turf grass allows people to transform their workout areas into spaces where they can challenge themselves in various fun ways. They make the surface safe and resilient to allow better workouts. You can do strength-training workouts, conditioning workouts, yoga, and stretching without any problems.
9. Putting Green Turf
Putting green turf is different from other types of turf and it is available in two types. The available types are polypropylene and nylon. Nylon does not require any infill and it is ideal for miniature golf courses and indoor putting greens. It is more affordable but its quality is low. People in need of long-lasting options go for polypropylene putting green turf. Polypropylene demands sand infill and therefore it makes a good smoother game.
10. Pet Turf
In addition to landscape turf, pet owners require pet turf to satisfy the needs of their pets. While pet turf is made of artificial grass, it has some form of backing to allow proper drainage. The market offers permeable backing systems that allow the urine to drain through the turf. People use this type of turf in both residential and commercial places.
The Benefits of Artificial Grass
Sports fans know the many benefits that artificial grass offers on game-playing fields, but this type of grass has more applications beyond the fields. People in need of drought-tolerant landscaping have adopted them for use in their residential and commercial places. Here are the key benefits this type of grass provides
Beautiful Greening Function
Natural grass goes into a dormant stage and turns brown and unsightly in the cold winter months. In arid areas, the grass may lose its color for a long time. Artificial turf maintains its green color throughout the year. It does not require any watering or mowing. You just need to lay it and sweep off the autumn leaves.
Environmental Protection- Reduce the Negative Impact on the Environment
Artificial grass does not require any maintenance. That means you will not use any electric or gas-powered lawn equipment or water it. In other words, artificial grass is eco-friendly.
A simple sweep will clear away the debris and soil from its tip and keep it in the right shape. Artificial grass is recyclable and some people repurpose it for residential properties.
That means no waste materials end up in landfills. Moreover, artificial grass does not require any toxic chemicals that can harm your health or your pets.
Save Money and Time
In addition to the monthly maintenance costs, such as fertilizers, mowing, and sod, natural grass requires a lot of water. That means you will spend a lot of money and time on the maintenance part. Artificial turf does not require any type of that. It will allow you to direct the money and time elsewhere.
Easy to Install
The installation of artificial grass is easy. After ensuring that the surface is flat, permeable to water, and stable, you just need to lay the grass. When laying it indoors or on your balcony, you will find the work easy due to the small surface area. Further, you can cut the grass into several small pieces of various shapes to fit into any area.
Why Import Artificial Grass from China Artificial Turf Suppliers?
Artificial grass suppliers in China offer a wide range of artificial turf. They have sophisticated machines that can produce turfs for different applications, such as sports, landscaping, and indoor decoration. You will enjoy many benefits by importing from China. Here are the benefits to expect.
Reliable Manufacturers
China has many artificial turf suppliers. That means they have to compete for customers through integrity, customer satisfaction, and product value. They use modernized manufacturing technology to make stable, comfortable, safe, and eco-friendly artificial grass.
High Profit
Perhaps, you have already realized that most of the items in your house are made in China. That is the reason that Chinese manufacturers offer products at lower prices. So, you should also expect artificial turf from China to come at the lowest price. You can resell it at a high price to make a huge profit.
Easier Importation
While you should expect challenges when importing artificial turf from China for the first time, the process is straightforward. You do not have to speak Chinese, travel to China, or even meet the high MOQ that many artificial turf suppliers set. All you need to do is hire a reliable sourcing agent.
Import Customized Products
Artificial grass suppliers in China offer a wide range of artificial grass. Further, they can customize the products to meet your needs or target market. All you need to do is send samples or specifications to them. They will produce what you need.
How to Find Reliable Artificial Grass Suppliers from China
After identifying the type of artificial grass to source from China, your next step is choosing the best China supplier. The selection of the best artificial grass suppliers for your business is among the most important decisions.
If you choose the wrong supplier, then you will have to bear all the losses that may arise. Here are the main methods you can use to find the best synthetic grass suppliers in China.
Google Search
Perhaps, your main tool when it comes to finding information is Google. However, you can also use Google to find the best artificial grass suppliers in China. All you need to do is type "the keyword + manufacturer" in the search bar and you will get a long list of suppliers. You will have to vet those you select.
Trade Shows
You can attend a China trade show or trade fair and talk to artificial grass suppliers directly. Discuss their company values, their key products, their quality control procedures, and their production capacity. Direct interaction with suppliers allows you to see their abilities. Two of the most popular trade fairs and shows to consider are the East China Fair and the Canton Fair. The trade fairs have the largest number of traders and goods, meaning that you can have many onsite deals.
Yellow Pages
Yellow Pages allows artificial turf importers to connect easily with China suppliers. It is among the leading online resources for companies, exporters, and service providers. The listings include China companies seeking to reach international buyers, distributors, wholesalers, and sales agents. All you have to do is select a few of them and contact them.
Sourcing Agent
A sourcing agent, such as Huntersourcing, will help you source the best artificial turf from China. The agencies have experienced teams that will negotiate the price, do the factory audit, and handle the quality control, shipping, and logistics. You do not have to travel to China or send any of your employees.
B2B Web
China has many B2B marketplaces. The marketplaces allow suppliers to display their products and service and connect with global buyers. Here are the top sites you can use to find China's artificial turf suppliers.
Launched in 1999, Alibaba is a leading B2B platform. Actually, it pioneered the wholesale eCommerce concept and it is credited for opening doors for Chinese factories to the world market. Before its launch, it was hard to find and communicate with Chinese suppliers due to the many barriers like language and distance. Today, you only need to visit the site and navigate to the Sourcing Solutions option and Submit the RFQ. Submit your specifications and manufacturers will contact you with many quotes. Examine every supplier before placing an order to be sure that you will get what you want.
Made in China is another marketplace that connects international buyers with Chinese suppliers. Launched in 1998, the company is headquartered in Jiangsu, China, and it claims to have verified the suppliers on its platform. To know whether the artificial turf supplier you choose is verified, you have to check for the verified icon near the name. Further, Made-in-China will only pay the seller after you have received the goods and ensured that they are of the right quality.
This is the best wholesale B2B site for beginners. Unlike the other marketplaces that require you to shortlist verified sellers contact them and finalize the deal, Dhgate allows you to add products to your cart. After that, you can check out and they will send goods to you. Further, the site has a tiered pricing structure that allows you to save more money if you order more items.
Globalsources is a trade show facilitator, an online market, and a sourcing service provider. It connects buyers with Chinese wholesale sellers just as Alibaba, Dhgate, and Made-in-China. However, it also lists and helps register upcoming trade shows and trade fairs in China. The platform offers value-added sourcing services like product samples, smart sourcing, bulk RFQ, private events sourcing, and sourcing advice and news.
AliExpress is both a B2B and B2C platform owned by Alibaba Group. While Alibaba focuses on fulfilling wholesale orders, AliExpress focuses on fulfilling small wholesale and consumer orders. It has a tiered pricing structure that allows buyers to save money each time they place large orders. Besides, buying on AliExpress is fast and secure. All you need to do is add goods to the cart and checkout. AilExpress will manage everything else including buyer assurance and logistics.
Chinabrands was built for dropshipping. The platform offers thousands of popular products with images and descriptions. It dispatches the products to its warehouses in the US, UK, ES, and Au within 12-24 hours. You will enjoy discounts after opening an account and upgrading it to VIP.
How to Choose the Best Artificial Grass Manufacturers from China
When importing artificial turf from China, you have to choose the best manufacturer. Unfortunately, the process can be overwhelming if you are searching for artificial grass manufacturers for the first time. Most people do not realize that China has many types of manufacturers and each has different manufacturing terms. Here are the factors to consider when choosing one.
Type of Artificial Grass
Some artificial turf manufacturers in China offer only a few types of artificial grass and they might not offer what you need. If the manufacturer you choose offers what you do not need, you will have to choose another one. Further, you must choose a manufacturer that offers many types of artificial grass to avoid searching for another in the future.
Stable Quality
Researching artificial turf manufacturers takes time. While the first deal you come across might look great, you should take your time to research more options. Keep in mind that the price is just one factor. You have to assess the quality of the artificial grass, and the manufacturer's reputation and reliability. Ensure that the quality of the grass will stay consistent. You do not want to lose your customers.
Eco-Friendly
Artificial grass is beautiful, healthy, and sustainable. However, the manufacturer has to use eco-friendly materials. Consider those that use recyclable materials. They have to choose 100 percent recyclable material for the backing too.
Fast Delivery
Every importer would want to get the shortest lead time possible. A short lead time will allow you to introduce your products to your target market and stay ahead of the competitors.
The lead time refers to the time between the order placement time and the shipment completion. A feasible lead time is important in averting instances of holding inventory in the supply chain. When the lead time is short, you will manage to control the stock variation in your business and avoid problems.
Very Durable
Artificial grass is not made the same. The type of grass you choose might vary a lot or a little compared to other variants due to its component.
Luxury lawns are bouncy and have a full look. Sports turf is firm and provides a durable playing surface. Disposable grass mats are made of low-quality materials.
However, if your customers need quality products, you will have to choose artificial turf manufacturers that offer very durable turf. After receiving the sample, check the blade shape, density, thatching color, permeability, and blade height.
Easy Installation
Most rooftops, yards, porches, and floors are set up in a particular way. Homeowners set up their property sections in a way that is more convenient for them. So, the manufacturer you choose should provide artificial turf that is easy to install in any area.
What Certificates and Documents Do You Need when Importing Artificial Turf from China?

For the shipment of your artificial turf from China to be successful, you will need several documents and certificates. The needed documents vary from country to country and therefore you have to check what is needed for your country. Here are the commonly needed documents.
Contract of Sale
A contract of sale is the agreement between the buyer and seller. The seller agrees to supply or sell goods to a buyer for a certain price that the buyer agrees to pay. The transfer of goods happens after the buyer pays for the goods and the seller delivers them. A contract of sale enables the customs officials to confirm the value of goods.
Invoice
A commercial invoice will serve as proof of sale. It provides details surrounding the quantity, price, and value of the goods sold. It is important for accounting purposes and it serves as proof for payment. It contains the invoice number, order number, invoice date, and the name and details of the exporter.
Packing List
The packing list is a document that lists provide the details of the goods being shipped. This document is important for both the consignee and the forwarding agent. It is important in the preparation of other documents such as the inland bill of landing and the certificate of origin. It is also important when booking international carriers and it backs up the insurance claim in event of loss or damage of goods in transit.
B/L
A bill of lading is a document that outlines all the details of the goods being shipped to allow efficient processing of the invoice and freight shipment. Issued by the carrier of goods, the bill of lading serves as the receipt for goods. It also functions as evidence of a contract between the shipper and the carrier.
Insurance Certificate
An insurance certificate is issued as proof of protection of the goods in transit against damages, theft, or loss. In simple terms, it offers information on the coverage. Insurance companies offer it to verify the insurance of a policy.
Certificates
You will need the certificate of origin, the certificate of the manufacturer, and inspection certificates. The certificate of origin declares that the goods have been produced and manufactured purely and obtained from a certain country. and it is important during the clearance. The manufacturer's certificate indicates that the goods ordered are complete and all further risks are borne by the buyer.
The manufacturer's certificate gives more details on the processing of the goods and general details of the products. The inspection certificate certifies that the goods have passed the relevant inspection processes. It enhances customers' confidence and reduces rejection losses. It also helps the buyer identify potential hazards.
Top 10 Reliable Artificial turf Suppliers in China
China has hundreds of artificial turf manufacturers. To help you choose only the best, we have a list of the top 10 reliable manufacturers. Here is the list.
1. Wuxi Jujia Turf Technology Co., Ltd
Located in Wuxi City near Lake Taihu, Wuxi Jujia Turf Technology Company Limited is a professional high-tech enterprise that engages in the production, research, and development, sodding, and sales of artificial grass.
The company has been offering all-around services such as design, weaving, and construction of green, leisure places, and sports grounds since the year 2005. It has five tufting machines, and post-arrangement production equipment, and its production facility lies on a 15,000 square meters space.
Furthermore, the company offers artificial grass of various sizes, densities, and specifications. The products are exported to the US, Canada, Italy, Japan, South Korea, Israel, Spain, Vietnam, Turkey, India, and many other countries.
2. Jiangsu Wanyuan Artificial Grass Co., Ltd.
This company specializes in landscaping and sports artificial grass. It was established in 2014 in Baoying, Yingzhou City, Jiangsu Province, China and it grew rapidly to become one of the leading artificial turf producers.
Its factory lies on a 3,000 square meters area and it has 14 extruding lines, 2 coating lines, and 8 tufting machines. It produces over 5,000,000 sqm of artificial grass per year.
You can order various types of artificial grass such as 15-65mm fiber shape spine, flat, W, C, V, S, WAVE, PU, a gauge of 3/8, ¾, 5/8, 3/16, dtex of 7000 – 16800, and stitch rate of 600-32000st/sqm, and coating of green or back latex, PU and many colors.
3. Dorelom Artificial Grass Group Co., Ltd
Dorelom Artificial Grass Group was established in 2004 and it exports its products to over 60 countries. The company strictly follows ISO9001 and ISO14001 standards to offer the best products.
Its factory is located in Lantian County, Xi'an Shaanxi, China, and lies on a 5,000 square meters space and has high-tech production machines such as CTS and COBBLE. Its annual production capacity exceeds 5,000,000 square meters.
You can order landscape artificial grass, swimming pool artificial grass, playground artificial grass, and other types of artificial grass from the company.
4. Yixing Forestgrass Sports Co., Ltd.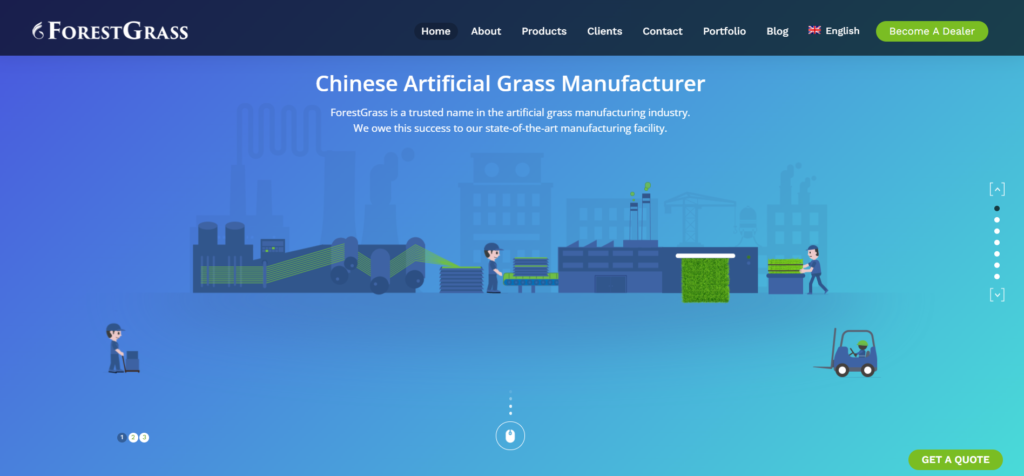 Yixing Forestgrass Sports Company Limited is a leading manufacturer of artificial grass in China.
The company is located in Tianxi Square, Yixing City, Jiangsu Province, China and it offers a wide range of synthetic turf products for both commercial and residential properties as well as sports arenas like hockey, football, and baseball.
Its leading clients are Walmart, IKEA, and Evergreen (UK).
5. Wuxi Zhongmeng Sports Facilities Technology Co., Ltd.
As a leading producer of artificial grass, Wuxi Zhongmeng Sports Facilities Technology Company Ltd offers a wide range of products for the global market.
The company is known for producing high-quality, soft-touch, and safe grass.
Its factory, which has existed for over 12 years, has COBBLE tufting machines and automatic coating machines that guarantee top-quality artificial grass.
The company claims to use 100 percent new PE and PP materials to make its products.
6. Shandong Meisen Artificial Lawn Co., Ltd.
The factory of Shandong Meisen Artificial Lawn Company has several sets of synthetic grass equipment capable of producing various types of artificial turf, such as sports turf, landscape artificial grass, and leisure turf.
Actually, the factory produces over 3 million square meters of artificial turf per year.
Its R&D team works hard to come up with many types of turf for football fields, golf courses, and basketball courts.
7. Shanghai Dracon Industry Co., Ltd
Shanghai Dracon Industry Company manufactures and exports eco-friendly artificial grass for various uses.
The company has experienced workers and advanced machinery that offers the best artificial grass for various applications.
Their factory is located in Jiangsu, China, and it specializes in artificial grass for sports turf flooring, landscape grass, and football grass.
Further, it has established quality control systems that guarantee high-quality products.
8. Yantai Teny Grass Co., Ltd
Yantai Teny Grass Company Ltd is situated in Yantai City, China produces artificial grass for sports fields and landscaping.
They have been supplying artificial turf for schools, hotels, gyms, football pitches, home gardens, and tennis pitches.
Their products comply with the set environmentally friendly standards and they have passed several tests, including Labosport, ROHS, and REACH.
Further, their quality control team also inspects every roll of grass to ensure it is of the needed quality.
9. Yangzhou Lvbao Artificial Turf Co., Ltd
This company was established in 2013 and it is situated in Caodian Industrial Zone, Baoying, Yangzhou, Jiangsu, China.
In 2016, the company bought three sets of extrusion lines and it was awarded the National High-Tech Enterprise Award. Today, it also owns COBBLE tufting machines that produce high-quality customized grass.
Its factory has passed several certifications such as DIN, RoHS, and REACH.
10. Shandong Green Land Grass Co., Ltd.
Shandong Greenland Artificial Environmental Turf Company Ltd was started in 2015 and it is situated in Rizhao, Shandong, China.
The company is among the largest in the globe and it focuses on R&D, production, and sales of artificial glass in China and other parts of the world.
Its factory covers 150 acres and has an annual output of 10,000 tons of grass silk and 12 million square meters of artificial grass.
It adheres to strict ISO9000 and ISO14000 quality standards. Therefore, you should only expect quality sports and leisure decoration artificial grass.
Why Choose Huntersourcing as Your Artificial Grass China Suppliers Sourcing Agent?

Huntersouricng knows all the ins and outs of the artificial grass business in China. After selecting a factory, they will visit it constantly to check the production progress and report to you if anything goes wrong. They will also help you access trusted artificial turf suppliers. Here are the other reasons you should rely on them.
Huntersourcing has more than ten years of rich experience with Artificial grass experts, who can guarantee to understand every china artificial turf manufacturer you are looking for

Huntersourcing is familiar with the origin of Artificial grass in China and knows that different china artificial turf suppliers are located in different production areas and cities

Huntersourcing maintains a good cooperative relationship with a large number of domestic artificial lawn suppliers in China. We can quickly get fake grass samples at very competitive prices.

Huntersourcing has a dedicated agent expert who will help customers from order to shipment, ensuring the safety, quality, and delivery time of the order throughout the process

Huntersourcing can provide one-stop door-to-door transportation, and customs declaration, and solve all customer worries.

Huntersourcing provides all free quotations and samples.
Contact Huntersourcing today for a free quote. You can reach them through email, Whatsapp, or mobile phone.
Conclusion
Most Chinese artificial grass manufacturers have modernized manufacturing technology and R&D teams. They enforce strict production processes to ensure that the artificial grass is stable, safe, comfortable, eco-friendly, and long-lasting. This guide will help you choose the best artificial turf manufacturer in China. You can also rely on Huntersourcing to simplify the importation process. There is no need of traveling to China.
Related Post
Contact Us Get Free Quote!
* Please kindly fill out the form for inquiry
* we will reply to your inquiry within 24hours