Why Choosing Artificial Grass Wholesalers Can Save You Money and Time
1. Why Artificial Grass Wholesalers from China?
2. What Is the Best Artificial Grass on the Market?
3. Where to Buy Artificial Grass from China?
4. Artificial Turf Installation
5. How Much Is Artificial Grass Per Square Foot?
6. How Long Does Artificial Grass Last?
7. How to Ship Artificial Grass from China?
8 Top 10 Reliable Wholesale Artificial Grass Suppliers
8.1 Prettie Grass
8.2 TopTurf
8.3 WMGRASS
8.4 ARTURF
8.5 Taishan Artificial Turf Industry Co., Ltd
8.6 Wanhe Grass
8.7 AVG
8.8 Suntex Sports-Turf (Kunshan) Corporation
8.9 Jiangsu Wanyuan Artificial Turf Co. Ltd
8.10 Shandong Biyuan Artificial Turf Co., Ltd
9. Why Choose Huntersourcing as Your China Generator Manufacturers Sourcing Agent?
10. Conclusion
Why Artificial Grass Wholesalers from China?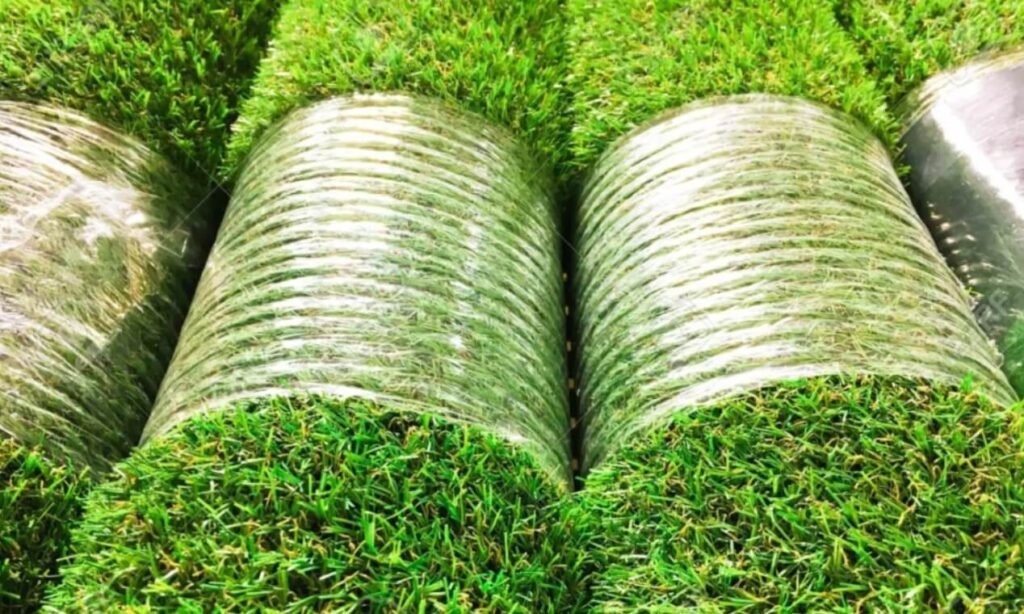 Many of you might have been thinking why should we pick artificial grass wholesalers from China among so many other countries? Well, if you are thinking the same, you are not the only one, and here are some of the reasons why you should choose China for synthetic grass wholesale.
Lower Wholesale Price Gives High Profit
If you are well-known in today's business world, you indeed know how low Chinese products are priced. It is not only for artificial lawn wholesale but for almost every type of product.
Hence, as you are looking for artificial grass wholesalers, you can get them at quite a low price from Chinese wholesaler companies.
You can then sell them to different wholesale turf companies or individuals in your country at a higher price. As a result, there will be a high margin of profit in your synthetic grass wholesale business.
High-Tech Production
There is a common rumor that Chinese products are of low quality. However, these rumors are untrue as you may have already understood. As we are talking about synthetic grass wholesale, China has progressed quite much in this regard. Many Chinese artificial grass wholesalers now use modern British and German manufacturing technology.
As a result, the artificial grass gets stable, safe, lasting, comfortable, and most importantly, eco-friendly. Besides, the Chinese wholesale turf market is enormous. Their projects include a wide range of areas, including basketball courts, volleyball courts, and so on. Hence, their experience in this regard is so high, resulting in high-quality products.
Easy Import
Many think importing from China is a difficult process. However, as China is the center of today's business world, it is easier to import any product from China than from any other part of the world. The same is applicable to fake grass wholesale.
Besides, there is a wide range of Chinese industries and companies offering online services. As a result, you don't need to physically get in touch with the company.
Instead, you can get sample products from the company of your choice by ordering online. And afterward, no matter what your location is, you can easily import from the artificial grass wholesalers of your choice from China.
What Is the Best Artificial Grass on the Market?
As we already mentioned, there is a wide range of fake grass available in the market. As we are talking about the Chinese market, the range is even wider.
Hence, it is important that you buy the best artificial grass available in the market. A specious fact in this regard is that artificial grass has advantages over organic grass in some cases. They don't need weeding or watering, they do not attract pests, and most importantly for tropical regions, they don't cause mud puddles.
Nevertheless, you surely will try to get hold of even better artificial grass. Here are some of the best quality artificial grass.
1. LITA Deluxe Artificial Turf
LITA Deluxe artificial grass offers a 4-tone dye which gives the artificial grass the look of regular grass. It creates valleys, dips, and shadows the same as that the regular one.
As a result, your artificial grass looks far more real. The paint used in this artificial grass is non-toxic, making it a safe playground for kids and pets.
A common challenge regarding artificial turf setup is cutting and crimping it according to the size of your yard. However, LITA Deluxe artificial grass comes in a wide range of dimensions, ranging from 20-inch tiles to 82-foot rolls.
Therefore, all you need to do is just pick up the size that matches your lawn. The longer warranty is also admirable. While almost all artificial grass comes with a warranty period of around 8 years, LITA Deluxe artificial grass offers a 10-year warranty.
2. SunVilla Artificial Grass
If you are looking for artificial grass that will constantly look mowed, you are in the right place. SunVilla grass mixes green blades and yellow curls in them.
While the green blades lie on the top, the yellow ones lie at their bottom. As a result, the grass exerts a realistic feeling. Both these blades offer anti-frost and UV protection, making them more useful.
Installing artificial turfs is quite challenging. However, that is not the case for SunVilla artificial grass. You can install this artificial grass with tape, stitched seams, staples, etc.
The self-adhesive tape is very helpful in case you are trying to do the installation yourself. Like the previous artificial grass, this one also comes with a whopping 10-year warranty.
3. Ottomanson Evergreen Turf
People want artificial grass for different reasons. The main reason is to create a green, vibrant, natural look.
Another important reason is to offer a playing spot to children and pets. There is a less common, yet important reason to use artificial grass. That is indoor use, maybe in playrooms to create a vibrant feeling, or as a doormat.
If you are trying to find artificial grass for the latter purpose, the Ottomanson Evergreen Turf is the right choice for you. That is because it is lighter than the recommended weight of outdoor use.
However, its lighter weight gives some extra advantages as well. You can cut it with scissors or box cutters. If you want to use it outside, that is also possible. The artificial grass comes with drainage holes, making it quite usable outdoors.
Where to Buy Artificial Grass from China?
There is a huge number of artificial grass wholesalers from China. However, not all of them supply their products worldwide.
That is why what you are looking for is an online artificial grass company that offers delivery to your location.
B2B companies can be a great help in this regard. Following are some artificial grass suppliers that offer a wide variety of products with a low MOQ (Minimum Order Quantity) and comparatively low price.
These world-known artificial grass suppliers offer the best artificial grass from different factories. Hence, although these suppliers are the best ones, you need to know what you are looking for to pick the most perfect factory for artificial grass wholesaling.
Artificial Turf Installation
Buying is not everything for artificial grass. It needs to be installed as well. And just like buying the best artificial grass out of many is important, it is necessary to do perfect artificial turf installation.
However, the overseas wholesaler companies you buy the turf from won't do artificial grass supply and installation at the same time.
Hence, you might need to do it yourself, which would not give the best results, or you can make it done by professionals in your region.
Artificial turf installation requires several steps. Firstly, you will have to prepare the ground on you want to install the turf. It includes removing the existing materials underneath.
Then, you have to prepare the base and customize your turf according to the ground. The next step is to tuck turf edges properly so that they do not bulge outwards.
An important task comes after this step. That is to apply filler. Silica sand infill is the most common. The acrylic sand infill is also popular. You will find many infills customized just for artificial turfs. You can choose the best one among them for your turf.
And finally, you will have to do the final grooming. Based on the demand of your location, the steps may vary.
How Much Is Artificial Grass Per Square Foot?
Artificial grass requires a big amount of upfront cost. Some will even think of it as one of the most expensive decorative items. However, once it is settled down, you don't have to worry for the next 15-20 years. Some persist even longer.
Artificial grass is priced per square foot, which can range from $5 to $20. This price includes two costs- the buying price of the artificial grass and its installation cost. The average price stands at around $12 per square foot.
Nevertheless, the price depends on some factors, including the material used, area size and location, etc. Among the main three material types, polypropylene costs the lowest, while nylon costs the most.
However, you can excuse its high cost for the long durability. Polypropylene turfs cost between $1.90 to $6.75 per square foot.
On the other hand, nylon turfs cost between $5.05 to $5.83. Polyethylene turfs are in the mid-range, costing $2.55 to $3.85 per square foot.
Like all products, the brand of artificial turf plays an important role as well in the price. Also, if the shape of the area you want to cover is unusual, it will make the installation process difficult, costing you a little higher.
Similarly, if you want to install your turf other than your yard, like rooftops, stairways, balconies, walls, etc., the cost will vary.
How Long Does Artificial Grass Last?
One of the most vital reasons that people buy and install artificial grass is its long durability. Manufacturing companies usually guarantee eight years lifetime at the longest.
However, artificial turfs usually last much longer than that. Based on the wear and tear, artificial turfs can last up to a whopping 20 to 25 years. Regular artificial turfs last 10 to 15 years without any hassle.
How to Ship Artificial Grass from China?
Being in the center of worldwide e-commerce, China has easy transportation for all types of products. Hence, artificial grass shipping won't be a problem no matter what your location is.
The next problem is the MOQ (Minimum Order Quantity). Many business owners face this problem while importing samples for their company. Either the MOQ is in the hundreds or the price per unit is extremely high. However, the online wholesale artificial grass suppliers we mentioned previously offer low MOQ at a reasonable price.
Hence, that should not be your headache anymore. You can pick a small number of samples and offer the price you want to pay.
Based on the amount of artificial grass you want to import and your budget, there is a wide range of shipping opportunities. Here are some of the ways that will vary on product amount and your budget.
Express:

Express delivery or express shipping is the fastest way of shipping. Typically, it delivers the product to the customer within 3 working days, ranging from 24 to 72 hours. This super-fast shipping comes at an extra cost. The customer needs to pay an extra shipping cost for such delivery.
However, based on the express company, the shipping cost will vary and so will the reliability of delivering the product safely. Some of the fastest and most convenient express services are UPS, FedEx, DHL, EMS, etc.
Air freight:

Air freights are the next fastest way of shipping. They are the commonest shipping type now, as well.
If you are looking for getting your shipment quickly but do not want to pay much extra like Express shipping, air freights may be the perfect solution. The shipping charge usually depends upon the weight of the shipment.
Sea freight:

It is the slowest and one of the cheapest ways of shipping. You can ship a large number of shipments at a comparatively low shipping cost by sea freights.
However, the delivery may sometimes take up to several months. Hence, if the delivery is urgent, sea freights are not something we will recommend. Also, you will need extra transport costs to get the shipment from the port to your store.
However, for large shipments, where air freights and expresses will cost you much, and if you have no problem with late delivery, sea freights are suitable for you.
Rail freight:

Rail freights are faster than sea freights but costlier. Also, they are not so convenient for delivering to all locations.
However, they can be an easy way to receive your shipment faster while paying less.
For artificial grass wholesale supply from China, you can use any of these methods that suit you the most.
Top 10 Reliable Wholesale Artificial Grass Suppliers
China has a huge number of wholesale artificial grass suppliers. However, to get the best artificial grass, you need to buy it from the top artificial grass wholesale suppliers. Here are the top 10 wholesale artificial grass suppliers that you can rely on.
1. Prettie Grass
Prettie Grass is a prominent grass supplier with the motto "share the green, share our dream" and is owned by Nanjing Prettie Plastics Co. Ltd.
The company primarily produces artificial grass and yarn products, with an annual capacity of 10 million square meters of artificial grass and 4500 tons of artificial yarn for both sports and landscaping applications, relying on technology and innovation, and world-class equipment.
Indulging in the principles of "Teamwork, Professionalism, and Passion, with firm faith in equality, mutual benefit, and hard work the company believes to achieve any possibility. The company has exported and installed its product in more than 60 countries around the world with an estimation of 10 million square meters.
2. TopTurf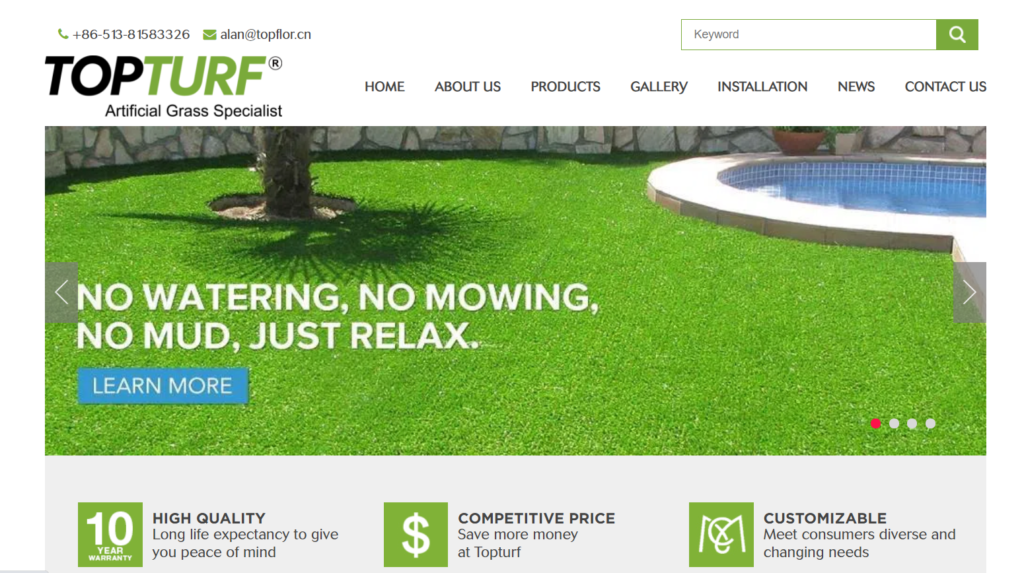 Topturf, is an artificial grass supplier with a wide range of products spanning from residential to commercial landscaping, indoor to outdoor, sports fields, and pet areas that have a long life expectancy, are durable and are of the finest quality.
Topturf is capable of experiencing the customers' diverse and endless opportunities by establishing personalized dog runs, private green sports fields, indoors in shady regions, or even on the rooftop.
Dream of a beautiful lawn is very much tangible with Topturf as it will not only improve the look and value of your property but will also let you indulge in your favorite activities while simultaneously doing something good for the environment.
Choose Topturf instead of natural grass to avoid the difficulties of seeding, mowing, watering, weeding, and seasonal maintenance.
3. WMGRASS
For the past two decades, JIANGSU WMGRASS CO. LTD. Has been a pioneer in the artificial grass sector, with an insatiable desire to create synthetic turf with high toughness and long lifespan, as well as unrivaled installation solutions.
The company currently encompasses 68,000 square meters, has 26 yarn manufacturing lines, 15 tufting machines, and 2 coating machines, and has an annual manufacturing capacity of 8,000,000 square meters of artificial turf.
Due to its superior types of equipment, high-end technological innovation, and foreign management system, the company provides excellent quality and reasonable rates to its customers. Take a look through our entire assortment of products to select the type that best suits your needs.
4. ARTURF
Artturf is a prominent artificial grass company, inspired by the art of artificial turf with a mission to increase market value via integrity, product value, and customer pleasure.
Prioritizing customer happiness at the top, the company is a dependable manufacturer, taking full accountability for quality and performance from the start, and tailoring products to fit unique in the market with a higher level of satisfaction.
The company is capable of supplying consumers with safer, longer-lasting, and better-looking synthetic grass by embracing cutting edge of synthetic grass technology and innovation, making it the industry's best value.
5. Taishan Artificial Turf Industry Co., Ltd
Taishan Artificial Turf Company is a completely owned subsidiary of Taishan Industry Group Co., Ltd. it manufactures artificial hockey turf, artificial PE turf products, artificial PP turf products, and other products.
Turf Products are water-permeable, wear-resistant, anti-aging, and long-lasting and are commonly used to cover grounds and decoration in homes, towns, airports, and highways, and on fields for rugby, football, golf, and other sports. Taishan is the first company in China to achieve FIFA and FIH certifications.
Taishan has a large and sophisticated production base and research center in Shandong, China, and marketing companies and R&D centers in Beijing, Japan, and the United States to provide high-quality artificial grass products and professional services to consumers.
6. Wanhe Grass
Wanhe Grass is a high-tech R&D-based artificial grass service provider and manufacturer at the Bank of the Beijing-Hangzhou Grand Canal artistic scenery.
Since its beginning, the brand has always committed to the scientific concept of development, making technological research and design along with personnel training the company's development goals.
The main products are sports grass and landscape grass and various other products. Wanhe grass is a high-quality, vibrant-colored natural grass with excellent drainage performance, low friction, high wear resistance, simple installation, and minimal maintenance.
Higher authorities and experts have acknowledged the firm's products as one of the best health protectors and UV defenders.
7. AVG
AVG, founded in 1982 and headquartered in Guangzhou, is one of China's first professional artificial grass manufacturers.
It has a production facility of 70,000 square meters and a capacity of more than 30 million square feet, as well, as three R&D centers in China and the United States.
The firm manufactures a diverse selection of artificial grass and turf for outdoor, indoor, garden, soccer, cloured, and pet applications.
AVG was awarded a FIFA license in 2018, in addition to being the exclusive provider of artificial grass to three major events: the 2008 Olympic Games, the 2010 Asia Games, and the 2011 Universiade. AVG is the exclusive provider of China Nation Stadium – The Bird's Nest.
8. Suntex Sports-Turf (Kunshan) Corporation
Suntex Sports-Turf Corporation is a professional artificial turf, grass, and synthetic grass manufacturer that has been in business for over ten years.
The company primarily manufactures artificial sports, landscaping, golf, and leisure crafts. Suntex employs around 100 people and has 5 different gauge machines, allowing Suntex to have a 3 million square meters yearly manufacturing capacity and a US$5 – 10 million yearly sales volume.
Suntex's main exporting markets comprise North & South America, Europe, Southeast Asia, Eastern Asia, Mid East, Oceania, and Africa.
Suntex may be preferred over its competitors as it offers a diverse product portfolio, guaranteed product quality, fair pricing, and good service.
9. Jiangsu Wanyuan Artificial Turf Co. Ltd
WINDYGRASS, founded in 2014, and located in Baoying, Yangzhou City of Jiangsu Province, is a brand of Jiangsu Wanyuan Artificial Turf Co. Ltd. It is a reputable manufacturer specializing in artificial grass for sports and landscaping.
The factory spans more than 30000 sqm and employs over 100 people. It is equipped with 14 extruding lines, 8 tufting machines, and 2 coating lines, with an annual production of up to 5.000.000 sqm.
WINDYGRASS is an International Quality Management System and an International Environmental Management System accredited unit. Furthermore, all goods are SGS-tested and completely qualified to CE, Rohs, and ASTM standards.
10. Shandong Biyuan Artificial Turf Co., Ltd
Shandong Biyuan Artificial Turf Co., Ltd established in 2017, is a professional artificial grass manufacturer based in Zibo, Shandong province with integrated design, R&D, production, and sales management.
The firm employs over 100 people and operates a 100,000-square-meter production facility with numerous automated manufacturing lines.
Biyuan turf is primarily used in football fields, golf courses, basketball courts, baseball fields, and other sports arenas, as well as family courtyards, roof greening, landscaping, and leisure areas.
Biyuan grass can successfully regulate the wear-resisting, aging, mechanical, and physical qualities, and its quality is of international first-class standard.
Why Choose Huntersourcing as Your Artificial Grass Wholesalers China Sourcing Agent?

If you are looking for the perfect sourcing agent for artificial grass wholesaling from China, HunterSourcing may be the right spot for you.
The company made it its motto to import products from China efficiently, easier, and safer. By providing one-stop sourcing services, the company is leading the sourcing industry in China. Here are some of the reasons why you should choose HunterSourcing for artificial turf wholesale from China.
1. Products Sourcing
Finding the best product from a reliable company at a relatably low cost is pretty tough. However, HUnterSourcing has made it quite easy. The company assigns an expert sourcing agent, who serves the customer all the way.
Firstly, the agent picks up more than ten companies that sell the product you are looking for. Then, after considering your requirements, they eliminate the ones that fail to get up to the mark in terms of quality, price, and delivery options. Based on this evaluation, the agent finally comes up with a limited number of companies, usually at least three.
2. Import & Export Consulting
Different products have different requirements regarding export policies, necessary documents, tariffs, etc. Companies also have some requirements of their own. Besides, taxes and necessary documents vary from country to country.
HunterSourcing provides customers with this information for free, relieving them from relevant worries.
3. Samples Collection & Quality Inspection
Ensuring the quality of your product is the ultimate need.
The agent from HunterSourcing will let the shortlisted companies supply samples of their product according to your requirements with your trademark, logo, etc., applied.
The agent will then help you inspect the quality, making sure you get the best product.
4. Factory Audit
Good samples are not the only thing to judge a factory. You also need to make sure that they can deliver you the exact amount of product while ensuring high quality for all.
Delivery time is also important in this regard. HunterSourcing will make sure of that.
5. Price and MOQ Negotiation
As you are going to wholesale, the price and MOQ are critical. Only a competitive price can ensure that you survive the market well and get some advantages.
Similarly, MOQ will help you evaluate the market through these testing products. The HunterSourcing agent will help you find the suitable price and MOQ from a wide range of suppliers, coming up with the perfect one.
6. Order Follow Up
From searching for the company with the perfect product to its delivery, the whole process requires follow-up, and it is one of the hardest things to do.
There are so many production details and so many more steps in the whole process that take up 15-60 days.
The HunterSourcing agent will deal with all these steps while ensuring that you do not encounter any problems from the production process to shipment.
7. Quality Inspection
HunterSourcing does not limit its quality inspection to samples only.
The assigned agent continuously inspects the quality throughout the production process. Even after the production is completed, a professional QC inspects the product and issue relevant inspection reports.
8. Free Warehousing for up to 60 Days
HunterSourcing offers warehousing services as well. They provide customers with 60-day free warehousing with their 1000-square-meter warehouse.
As a result, you can collect your products from different factories in one place. After the 60-day period, you will be charged as low as $10 per cubic per month.
9. Goods Consolidation
HunterSourcing offers goods consolidation, providing some extra advantages, like faster transport, lower transport costs, etc.
10. Amazon FBA Service
Global Amazon buyers often look for one-stop supply chain solutions.
HunterSourcing offers Amazon FBA services, resulting in one-stop supply chain solutions.
All you need to do is contact HunterSourcing, and they will inform you of all the information you need to know regarding your order.
11. Low-Cost Shipping Door-to-Door Solution
Shipment is an extreme challenge for wholesaling.
However, HunterSourcing has connections with so many shipping companies, which include different airlines offering air freight services, express companies, railway freight companies, and so on.
HunterSourcing offers door-to-door, door-to-port, port-to-door, port-to-port services.
12. Products Photography
HunterSourcing helps wholesaler companies with product photography, as well.
The company provides the customers with three white background pictures of each product.
You can use these pictures for advertising on Amazon. What is more amazing is that it is totally free.
Conclusion
Giving your yard a natural look without using natural grass is quite challenging.
However, artificial grass wholesalers are to help you with that. Artificial grass offers some extra advantages that natural grass does not. While natural grass requires regular mowing, watering, etc., artificial grass does not require any of these. You can simply install this grass in your yard and rest for the next 10-20 years.
The most reliable synthetic turf wholesale suppliers will help you in this regard. Hopefully, you will find the most suitable China artificial grass sourcing agent for you from this article.
Related Post
Contact Us Get Free Quote!
* Please kindly fill out the form for inquiry
* we will reply to your inquiry within 24hours