Choosing the Right Chinese Water Bottle Manufacturer
1. What Types Of Water Bottles Are Import From China?
Water bottle manufacturing is a growing business, and many types of water bottles are available for import. You can choose from PET or glass bottles and water bottles with carbon filters and other features. Other types of bottled water that businesses can import from China include:
• Plastic water bottle
• Glass water bottle
• Bamboo water bottle
• Stainless steel water bottle
• Steel water bottle
Functions Of Different Types Of Water Bottles
Bottled water is a top-rated product in the world. The demand for bottled water has been increasing over the past few years. It is due to the rising disposable income and urbanization of people with increased access to clean drinking water. When deciding what type of water bottles to import from China, you must first know the functions for which you will use them.
• Insulated water bottle
• Smart water bottle
• Running water bottle
• Bike water bottle
• Foldable water bottle
• Sports water bottle
• Pet water bottle.
2. How To Find A Water Bottle Manufacturer In China?
In the business world, water bottles are a vital part of the packaging and supply chain. They are used in almost all commercial industries, from food and beverage to pharmaceuticals and cosmetics. However, finding the best supplier for your needs can be challenging.
To help you out, we have compiled a list of five websites that will provide you with a wide range of options when searching for water bottle manufacturers in China.
1. alibaba.com
2. made-in-china.com
3. dhgate.com
4. globalsources.com
5. aliexpress.com
6. chinabrands.com
3. What Test Import Water Bottles from China?
When importing water bottles from China, you need to make sure that the bottles are high-quality. The first step in ensuring this is performing some tests on the bottles before they arrive at your facility.
The most crucial test that you can perform on water bottles include:
• Drop test
The drop test is one of the most important tests you can perform on water bottles. The test helps you determine whether or not the bottle will break after falling from different heights. You can use a piece of tape or an adhesive bandage to ensure the bottle does not break during the drop test.
• Leaking test
Secondly, you must ensure that there are no cracks in the bottle. If there are cracks, then they may leak and spill water. Any holes will affect its durability and could mean that it is not up to par with other products on the market today.
• Material test
The material test helps you determine if the product has any harmful chemicals or toxins in it. It means that if you find any toxic chemicals or toxins in your water bottles, then you should not purchase them for use at your facility. That will ensure that no one gets sick from using these products at your facility (and thus, no one will sue your company).
• Corrosion test
The other test you should perform on your water bottles is a corrosion test. The test will ensure that the bottles are rust-free and can withstand the elements.
• Vacuum insulation
Vacuum insulation is one of the most important tests that you can perform on water bottles. It ensures that the bottle will not lose its integrity when transported and will also last longer. The test involves using a vacuum to suck the air out of the bottle, then sealing it with an airtight cap..
4. What Coating Options On The Water Bottles?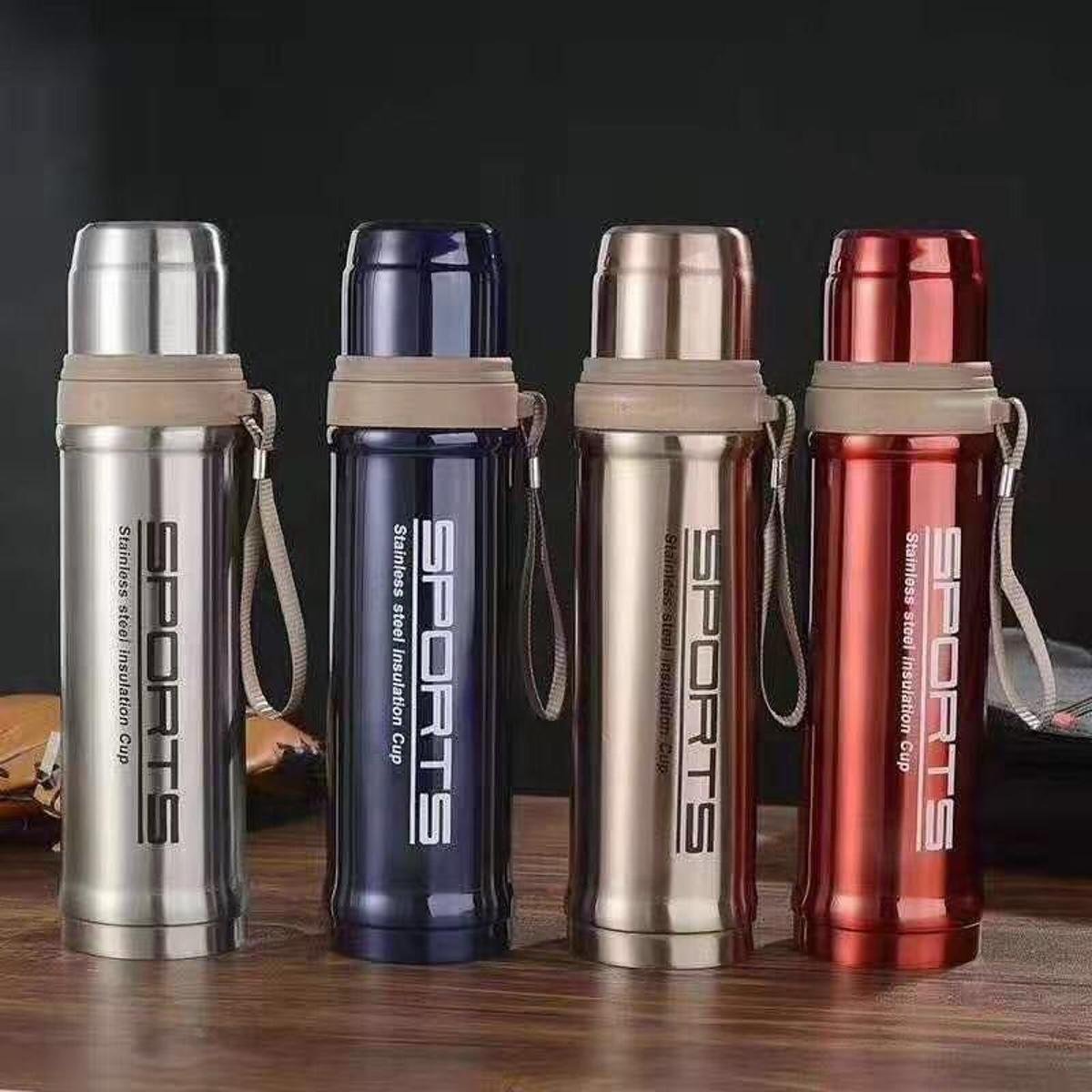 When importing water bottles from China, several coating options exist. The most common coating options include:
• Spray painting
Spray painting is the easiest and cheapest option for businesses looking for their packaging solution. The process involves spraying the bottle with a paint-like substance that seals the container and protects it from water damage. This type of coating has several advantages over other options, including:
 It is resistant to sunlight, heat, and cold temperatures
 It is cheaper than other coatings because it does not require any additional materials such as glue or tape
 It provides a high level of durability compared to other coatings with sunlight, heat, or cold temperatures.
• Powder coating
Powder coating is a process that uses special powder to coat the surface of a plastic or metal object. The process is a better option than painting because it leaves no marks and it does not have any harmful chemicals in it. It also provides a highly smooth finish, making the product look bright and clean.
• Rubber coating
Rubber is a widespread coating option for water bottles. The main reason is that rubber is very versatile and can be used in many applications. It can withstand high temperatures, making it ideal for applications such as hot and cold drinks. Rubber also can resist extreme weather conditions such as heat and cold, which is an essential consideration since water bottles are often used outdoors or in hot climates.
• Ceramic coating
Ceramic coating is a low-cost option. It is an easy-to-apply, durable, and long-lasting finish suitable for drinks and food containers. Ceramic coatings are also highly resistant to chemical attacks, heat, and corrosion.
• Glitter painting
Glitter paint is a relatively new coating technology that has been gaining popularity with consumers. It is a coating that adds sparkle to the bottle's surface and can be done in various ways. The most common glitter paints are spray paint and liquid paint.
Spray paint is an easy way to apply glitter to a water bottle, but it does not provide durability or longevity. Liquid paint offers better durability and longevity, but it is not as easy to apply as spray paint.
• Electroplating
Electroplating is a process that involves the use of an electrical current to deposit metal onto a surface. Manufacturers use these coatings on the inside or outside of bottles because they are less likely to leach toxic chemicals into the liquid contained within them. Electroplating also adds durability to the coating and improves its resistance to corrosion over time. The process is highly complex and requires specialized equipment, but it is also one of the most effective and durable coating methods available in the industry today.
• Polish
Polish is a coating that gives the bottle a shiny look and feel. Manufacturers apply this coating to the outside of the water bottle, making it look and feel more expensive than it is. They can spray the coating onto the bottle or dip it into a vat of heated chemicals to create the desired effect. Silver is the most common color used for this purpose, although other colors are available, including gold and bronze.
5. What Printing Options On The Water Bottles?
When importing from China, the first thing businesses need to consider is the printing options. Here are some of the most commonly used printing options on water bottles:
• Silk screening
Silk screen printing is one of the most common print methods used on water bottles, especially in small quantities. The process involves applying ink to a silk screen and printing it onto the bottle using a squeegee or roller. It is easy to use and requires no special equipment like large presses or heaters, so it is excellent for small-scale production.
• Sublimation transfer
Sublimation printing is a process that uses heat to transfer ink onto the water bottle. The ink used in this process is water-based, which means it will not affect the taste of the water. Sublimation printing is a popular choice for companies because it allows them to print logos and text on their products without worrying about damaging any bottle part.
• Heat transfer
Heat transfer is the most common printing option on water bottles. It involves applying heat to the bottle's surface to create a transfer image. Manufacturers can paint the water bottle's image on both sides, making it ideal for advertising.
• Water transfer
Water transfer involves the application of ink onto the surface of a water bottle using a heat transfer printing process. It is one of the most common types of printing on plastic bottles and cups. The process involves applying heat with a hot knife or thermal printer to create a water-based image.
• Air transfer
Air transfer printing is printing on the water bottle so that it passes through a fine air mist. That gives the impression that the printed image is floating over the water bottle.
• Digital printing
Digital printing refers to printing using inkjet or laser printers. The inkjet prints come out with vivid colors, but the laser prints are not as clear and have more graininess than the inkjet ones. It is easy to print out your designs at home without purchasing expensive equipment or going through the hassle of setting up a business.
• Water decal
A water decal is a great way to add personality to your water bottles. This option has several advantages over other printing options, such as the lack of ink and the ability to add multiple designs to the same bottle.
• 3D printing
3D printing is a technology that allows you to create functional objects from digital data. It is an additive manufacturing process that uses three-dimensional printers, typically in the form of a printer head that deposits material layer by layer. The most common materials for 3D printing are plastics, but many other materials are available, and the technology is also being used in metal, stone, and even living tissue.
The printing of water bottles offers several advantages over traditional methods. For example, 3D printing provides greater flexibility and control over the finished product than traditional methods such as injection molding.
6. Where To Buy Water Bottles In Bulk In China
China has a considerable supply of water bottles. However, when importing these products from China, you should ensure that you buy from the best supplier. The best water bottle supplier in China is one with the best payment term and offers reliable customer service.
When buying water bottles, you must buy from a supplier that offers the best price. To ensure the quality, ensure that your supplier produces products that have the approval of EDA. It should have at least one certificate from FDA or any international certification body such as BPA and LFGB. The supplier should also send you a sample so you can check the quality of its products.
Also, ask them about their lead time to be sure that the supplier will not delay your products after making an order.
7. How To Custom Water Bottle From China Manufacturer?
Water bottles are available in different styles, shapes, and colors. The first thing that you need to do is to find out about the manufacturing process of your custom water bottle. The production process of the custom water bottle should depend on what kind of material you choose for your product.
Private-label water bottle suppliers will allow you to choose the type of water bottle. Your manufacturer should have the capacity to provide you with a custom water bottle that includes your logo.
You can choose your favorite color, design, graphic, and packaging with the right manufacturer. Ensure the manufacturer offers any after-sale service that you might need. The manufacturer should also have the capacity to meet your needs in terms of volume and quantity.
8. Where Are Water Bottles Made In China?
China is the world's biggest producer and consumer of water bottles. For many years, China has been the main base for manufacturing water bottles. Many companies are located in this country to serve the local market and export their products to many countries worldwide.
You can find the vast majority of water bottle factories in:
• Yongkang, Zhejiang
• Guangzhou, Guangdong
• Taizhou, Zhejiang
• Shenzhen, Guangdong
• Shanghai
9. 10 The Best Water Bottle Supplier In China
China is among the largest producers of water bottles in the world. The country has been a world leader in making bottles since its inception as a country. China accounts for more than 50% of all plastic water bottles worldwide.
However, finding the best water bottle supplier in China is not easy. There are many manufacturers and suppliers on the market, but only a few can satisfy your needs and make you feel satisfied with their products.
Each water bottle maker has its style and design. Some people may like the designs of some brands, but some do not like them. Some water bottle manufacturing companies have better quality control and testing systems, resulting in higher quality products that last longer.
If you are looking for the best water bottle supplier, you should choose the ideal one according to your needs. Here are 10 of the best wholesale water bottle suppliers in China:
9.1 KingStar Industries Co., Ltd
KingStar Industries Co., Ltd is one of China's most reputable water bottle suppliers. The company has also become one of the largest manufacturers of PET, glass, and plastic bottles.
KingStar Industries Co., Ltd is located in Hubei Province in central China. The company is a reliable steel water bottle manufacturer. The company produces a variety of PET and glass bottles for home goods, food packages, and other packaging applications. It offers customized solutions for customers who need custom-made products made from their brand name or logo on their packaging.
KingStar Industries Co., Ltd has received Good Manufacturing Practice (GMP) certification from the China National Standardization Administration (CNS). That means that all products meet national standards for quality control and testing. That ensures that all products are safe for consumers to use without fear of any harmful side effects from exposure to chemicals or toxins contained within them.
The company is one of the most trusted glass water bottle suppliers, as its main focus is on providing customers with high-quality glass bottles that are durable enough for long-term use. You can always check its products at www.waterbottle.tech.
9.2 Everich Commerce Group Limited
Everich Commerce Group Limited is a leading supplier of water bottles in China. They offer many running water bottles, including PET, HDPE, and PP. Their products are made from high-quality plastic and aluminum, holding up well over time. The company also provides a 24-month warranty on all their products, which is one of the best warranties.
Visit https://www.everich.com/ to browse its official website if you are looking for stainless steel water bottle manufacturers that can supply you with the best quality products.
9.3 Koodee Metal Co., Ltd
Koodee Metal Co., Ltd is another leading plastic water bottle manufacturer in China. The company has been manufacturing PET bottles since 2002 and has production facilities in Guangdong province. KSI also owns one of China's most extensive production facilities for PET bottles.
It is also a great sports water bottle supplier, popular with businesses and consumers in the US, the UK, Africa, and many other Asian countries.
The company has a wide range of products, which you can browse at https://www.gzkoodee.com/.
9.4 Taizhou Ganglong Plastic Co., Ltd
Taizhou Ganglong Plastic Co., Ltd is a leading Chinese manufacturer of plastic bottles, oil bottles, and plastic caps. They have factories in Shenzhen, Guangdong Province, and have been in business since 1999.
KingStar Industries is famous for its high-quality control and testing systems, which ensure they only use high-quality materials in their products. They also offer various colors, styles, and sizes for customers.
It is a famous glass water bottle manufacturer that you can trust to manufacture your smart water bottle. You can view its products at http://www.glsuye.com/ for more information.
9.5 Safeshine Industrial Limited
Safeshine Industrial Limited is another top supplier of quality water bottles in China. They offer a wide variety of different types of water bottles, including PET and HDPE. Safeshine Industrial Limited has everything, whether you want a foldable water bottle, bike, or smart water bottle.
Its products have been tested and proven to be safe for use by individuals with sensitive skin types or allergies to certain chemicals used during manufacturing processes.
In addition to this, Safeshine Industrial Limited offers a 24-month warranty on all their products as well. Visit https://www.safeshine.com/ for more details about this plastic water bottle supplier.
9.6 Ecoway Houseware Limited
Ecoway Houseware Limited is a leading manufacturer of plastic water bottles, aerosol cans, and other plastic products. Ecoway has built its reputation on providing customers with high-quality products that last a long time.
The company has become one of the largest private-label water bottle suppliers in China thanks to its commitment to quality control and innovative design. The company currently produces over 500 different types of plastic bottles and packaging materials each day.
For more details about this mineral water bottle supplier, visit https://www.ecowayhouseware.com/.
9.7 Jiangsu Rongtai Glass Products Co., Ltd
Jiangsu Rongtai Glass Products Co., Ltd is one of the largest manufacturers of reusable water bottles in China. The company manufactures food-grade plastics using materials from around the world, including PET (polyethylene terephthalate) and HDPE (high-density polyethylene) plastics.
Its products are certified by several international agencies, including ISO 14001 for environmental management systems and ISO 22000 for product safety. The certification makes it a trusted eco-friendly water bottle manufacturer. The foldable water bottle manufacturer invites you to visit its official site, https://www.roetell.com/, for more information.
9.8 Guangzhou Diller Daily Necessities Co., Ltd
Guangzhou Diller Daily Necessities Co., Ltd is a leading manufacturer of plastic water bottles in China. It specializes in producing PET bottles widely used in food packaging industries because they are safe for use with hot foods such as soup or coffee.
The company also has a strong research team that can provide custom solutions to customers with specific needs. That makes it your ideal custom water bottle manufacturer. More details about the company are available at https://www.dillerbottle.com/.
9.9 Shenzhen Jewelives Industrial Co., Ltd.
It is a leading manufacturer of plastic bottles and glass bottles in China. Since its establishment, the company has been offering the best quality products to its customers at reasonable prices.
It manufactures various types of plastic and glass bottles used in multiple industries like food and beverage, household, pharma, chemical, and many others.
The company offers a wide range of products, including PET, HDPE, PP, LDPE, etc. It is also a reliable bamboo bottle manufacturer for companies looking for customized bottles that they can use for drinking water, pharmaceuticals, and personal care products.
It is also among the stainless steel water bottle suppliers in China that guarantee high-quality products at discounted prices. Visit http://www.jewelives.com/ to see its products and services.
9.10 Yongkang Xinduo Cups Co., Ltd.
Yongkang Xinduo Cups Co., Ltd. is another excellent company offering a wide range of wholesale water bottles. It has been in business for over a decade and has a good reputation for quality products that customers worldwide can start.
They make glass water bottles from high-quality materials that will last for many years without breaking or cracking under any circumstances whatsoever. The company is one of the best pet water bottle manufacturers in China.
If you want to import from an experienced hot water bottle manufacturer in China, then look no further than Yongkang Xinduo Cups Co., Ltd. Visit http://www.chinaxuguang.com/ to browse its products and prices.
10. Water Bottles FAQ

10.1 Why water bottles are good?
Water bottles are suitable for many reasons:
They are convenient and easy to carry
They are lightweight and can be used for various purposes
Water bottles provide hygienic drinking water and are ideal for outdoor activities such as trekking or camping
Water bottles are durable and can last long if appropriately treated
10.2 Which water bottle is good for health?
Water bottles are a vital part of our daily life. You can use a water bottle for many different purposes, such as drinking and making tea or coffee. But you should know that the type of water bottle you use is vital for your health.
The best water bottles do not contain bisphenol A (BPA). BPA is a compound for making plastics more durable, flexible, and resistant to heat.
Unfortunately, it also mimics estrogen, disrupting our endocrine systems and increasing our risk of obesity and cancer.
10.3 Why water bottles should not be banned?
Water bottles are a necessity for many people. If you are one of them, it is essential to know why authorities should not ban water bottles.
They should not ban water bottles because they are harmless products. Banning them is not the answer, as it will only make people go out of their way to get them illegally, which will cause even more environmental damage.
Banning water bottles would also create a shortage of water in an already scarce resource, which would cause more harm than good. We need water bottles to survive on this planet, and we need them now more than ever before.
10.4 Which water bottle brand is the best?
The best water bottle brand will depend on your preference and the type of water you want to drink, but some general guidelines can help you decide which one is right.
If you are looking for a reusable glass bottle, then BlenderBottle or Thermos are great options. Both brands have leak-proof stainless steel or BPA-free plastic bottles, so they will keep your drinks cold or hot for hours at a time.
Glass bottles also tend to be heavier than plastic ones. So, if you are traveling with them, they may not be ideal for carrying around in your bag. If this is an issue, consider purchasing a collapsible container instead.
On the other hand, if plastic bottles are more your thing, then Hydro Flask is a great option — it comes in both insulated and uninsulated models, so there is something for everyone here. The insulated version keeps drinks cold for 24 hours and hot for 12 hours (before requiring another full recharge), while the uninsulated model keeps drinks cool for 24 hours without warming up.
10.5 Buy a water bottle online?
The best way to purchase a water bottle is by buying it online. There are many places where you can buy water bottles online. Still, we recommend buying your water bottles from Alibaba.com, Chinabrands, Amazon.com, or any other online platform because they have excellent customer service and provide free shipping on orders over a certain amount.
11. Why Choose Huntersourcing As Your water bottle Sourcing Agent?

Water bottles are one the essential items for any business. Different companies and industries use them, so having a reliable supplier is very important.
Huntersourcing is a global sourcing agent that helps businesses to find reliable suppliers. Here are some reasons why you should choose Huntersourcing as your water bottle sourcing agent:
• Consulting
Huntersourcing provides consulting services to help you find the best suppliers for your needs. It will help you understand the market and identify suitable suppliers for your project. The sourcing agent provides information about different factories and their capabilities to ensure a quality product.
• Products trends
Huntersourcing has years of experience in this field and understands the latest product trends. The sourcing agent understands how businesses can utilize the latest product trends to maximize profits. That can help you find the best suppliers.
• Factory audit
A factory audit is a process that checks the quality of the goods and products before they are sent out to customers. An independent party does this by coming to the factory to check the production process, quality control, and other relevant issues. Huntersourcing has experts who can undertake factory audits for you to know about your product's quality before reaching your customers.
• Design
The design of the water bottles is a crucial factor for a company. It should be stylish but also practical and durable. Huntersourcing has a wide range of designs on its website, so you can choose the one that suits your needs best. After choosing your design, Huntersourcing will help you find the best supplier.
• Development
The sourcing agent has a team of top-rated professionals with experience in the industry, and they know what it takes to get your product imported successfully. They will guide you through the entire process, from price negotiation to designing and developing your products, and ensure that everything goes smoothly without any hitches or delays.
• Sample
A sample is the best way to get started with a new supplier. Huntersourcing will send you samples of products from various bottle suppliers and let you try them out before you commit to a larger order. That way, you will see if the sourcing agent and supplier can deliver on their promises and if they can provide quality products at competitive prices.
• Price negotiation
Huntersourcing is one company that carves out its niche in this highly competitive market. It has built its reputation on delivering excellent quality products at affordable prices through its network of suppliers throughout China. Suppose you are looking to import water bottles from China. In that case, you can consider using the services of this company as your sourcing agent because it can help you with price negotiation to ensure you are getting the best quality water bottles at the lowest possible prices.
• Quality control
Different factories manufacture water bottles, so it is crucial to ensure that the quality of every bottle is high enough for your business needs. Huntersourcing has strict quality control measures to ensure that the water bottles meet all quality standards set by other companies.
• Shipping & Logistics
You do not want to deal with intermediaries who may charge you more than necessary or delay the delivery of your product due to their interests. With Huntersourcing, you will be working directly with one of its representatives responsible for bringing your order across borders safely and reliably so that you can enjoy all its benefits without any worries or hassles.
The sourcing agent will ensure that your bottles reach you on time, so you do not have to worry about them being late or lost in transit. Its shipping & logistics services are insured and trackable. So, there is no risk of your goods getting lost during shipment or damaged during transit due to poor packaging or handling by postal service workers or customs agents.
• Customs clearance
The import process can be complex, especially when importing from China. You must choose a reputable supplier to help you with customs clearance. Huntersourcing has an experienced team that will guide you through every procedure step, including providing all the necessary forms and documents. The team has access to all the information you need to complete your importation successfully.
Summary
There are many water bottle manufacturers in China. However, many people find it challenging to find the best supplier. We do hope that this buying guide helps you find a reliable supplier. But still, using Huntersourcing remains the best way to go.
Contact Huntersourcing today to find out how the sourcing agent can make the sourcing project easier for you. With this sourcing agent, you will have everything under control, from production to shipping.
Related Post
Contact Us Get Free Quote!
* Please kindly fill out the form for inquiry
* we will reply to your inquiry within 24hours