What Products Sell Best on Amazon and How to Find the Best Products to Sell?
Amazon is currently the largest eCommerce site in the globe. Actually, you can get almost any product you want from this platform. Unfortunately, if you are a seller, choosing the right products to sell on the platform is not a walk in the pack. If you choose something too niche, no one will know about it, and you will end up making huge losses. Still, selecting something very popular means that you will face stiff competition, and your chances of success will be low.
1. What Products Sell Best on Amazon?
2. What Product Categories to Choose for Your Amazon Business
3. How to See What Products Sell The Best on Amazon?
3.1. Which Products Sell Best on Amazon?
3.2. What are the Best Products to Sell on Amazon FBA
3.3. What are the Most Profitable Items to Sell on Amazon
4. How to Find Best Sellers Rank on Amazon
5. What are the Top 10 Items Sold on Amazon
6. How to Find the Best Products to Sell on Amazon
7. Where to Source Your Products From?
8. How to Find Best Selling Products on Aliexpress
9. How to Find Best Selling Products on Alibaba
10. Why Choose HunterSourcing as Your Sourcing Agent in China?
11. Conclusion
Luckily, we have the tips you need to choose the best products to sell on Amazon. Keep reading.
What Products Sell Best on Amazon?
Amazon Best Sellers Rank is an important tool when it comes to choosing the best-selling products on the platform. Previously known as Amazon Sale Rank, Amazon Best Sellers Rank highlights the hottest products in all categories. It bases the calculation of the Best Sellers Rank (BSR) on various factors such as price, historical sales, competing products, and promotions. Amazon updates the BSR each hour, and you are likely to find some products with several different BSRs if they fit in several categories.
Amazon has never published the factors that influence the BSR, but experts believe that the following are the three main factors that affect it.
Sales Velocity
A product's sales velocity has a big effect on its BSR. In other words, a product that sells very fast will have a better BSR. The sales velocity highly depends on the received orders within a particular period and not the units you sell.
Sales History
Sales history is the second leading BSR influencing factory. Generally, the BSR of a newly listed product will fluctuate more than that of products that have existed on the platform for a very long time.
Seasonality
The demand for some products highly depends on the seasons. And because the competition for such products varies with seasons, the BSR will fluctuate more.
What Product Categories to Choose for Your Amazon Business
Choosing the right category and products to sell on Amazon will help you make money. People who choose saturated products or the research part end up struggling to drive sales. Products are vital in online business. Actually, they establish the business.
Unfortunately, the eCommerce industry is evolving rapidly, and finding the best-selling products can be hard. Amazon constantly updates its list of best-selling products, something that makes it hard to make a choice. We have come up with a list of the top-selling products on Amazon to help you decide. So, what are the best-selling products on Amazon?
Books
Products in this category include thriller books, suspense books, comics, fictional books, biographies, memories, children's books, diet books, cookbooks, and recipe books. Hardcover books are unlikely to go extinct because they are classics.
People will continue using them regardless of the number of digital gadgets they have in their homes. Books generate high profits on Amazon, and they have remained on the list of best-selling products for many years.
Toys and Games
Products in this category include colorful toys, memory games, inflatable lounge, card games, playsets, wooden game kits, Lego blocks, outdoor kits, jigsaw puzzles, and block games. Toys and games are among the Amazon product categories that generate a lot of money within a short time. That is for the reason that children are excessive consumers. However, the category is highly dynamic. You have to watch the current trends carefully to continue making profits.
Gaming kits, cricket bats, video games, golf balls, brain games, and learning games might make you huge profits if you are creative and trendy.
Baby Products
The global population has been growing rapidly. That means that the demand for baby products is also high. People are always buying more baby car seats, diapers, pacifiers, strollers, teethers, and many other baby care products. You might also need to try baby entertainment products.
Electronics and Accessories
Bestselling products in this category include power banks, headphones, Bluetooth devices, memory cards, printers, USB devices, screen guards, cables for PCs, chargers, portable printers, back cases, and smart devices. In 2018, over 60 percent of Google searches related to electronic devices and accessories.
Further, most consumers want to have up-to-date electronic accessories and gadgets, something that makes this category a percent choice. Keep in mind that most customers want to shop by brand name due to the trustworthiness and popularity of some sellers. Avoid stocking up very many high-end products.
Skincare
The products in this category are made to make your skin feel and look better. Skincare products are categorized by what they do and how they function. They include creams, moisturizers, toners, essential oils, and serums. They stayed on Amazon's best-selling products list for a long time.
Cosmetics
The cosmetics industry is among the fast-growing sectors. People are using more cosmetic products than they did before. You can choose to sell both herbal and chemical products, which include personal care products, treatment products, face care, and hair products.
Home and Kitchen
This is another category to try if you do not want to struggle with sales. Many people love spending on their homes, and they will be ready to buy any helpful product. Products within this category include home improvement products, cookware and dining, furniture, large appliances, and lawn and garden.
Sports and Outdoor
This group of products has two main categories – recreation and outdoor and sports and fitness. The products in the category include boating and fishing, athletic apparel, hiking and camping, cycling, climbing, golf hunting, exercise and fitness, and team sports.
Arts, Crafts, and Sewing
This category requires more creativity, but it has the highest potential payback. Estimates show that the profit margin of products in this category is over 20 percent. That is higher than that of the popular product categories like electronics, books, and clothing.
However, you will have to differentiate yourself from the sellers if you want to make more profit. In other words, you have to decide on the type of customers you would want to target. Make your product descriptions detailed because your customers will be looking for specific and personalized products.
Pet Supplies
Pet supplies will never miss in the list of fast-selling consumables on Amazon. Buyers of products in this category are always ready to spend more to make their furry friends happy. Pet supplies include toys, treats, food, leashes, collars, cages, cat litter, and aquariums.
Clothing, Shoes, and Jewelry
Products in this category include stylish shoes, Rhinestone jewelry pieces, and exclusive apparel. While Amazon does not include jewelry, clothing, and shoes in its best-selling products, they are the main reason it makes a lot of money. Clothes are among the basic needs of human life, and they will make you money.
How to See What Products Sell The Best on Amazon?
The key to finding successful products on Amazon is as simple as choosing products that are in high demand and with low competition.
In fact, this is what every online seller should do. You have to position yourself in the platform with low supply and high demand (supply = potential competitors). When launching your private label products, your main goal should be to capture the available demand immediately without facing much competition from the other sellers.
So, how do you find the products with low competition but high demand? Continue reading.
Which Products Sell Best on Amazon?

Amazon offers millions of products. For that reason, finding products that have low competition and high demand can be hard. Do not panic. We have gathered the key elements you need to consider when searching for such products. The elements will also help you develop the best private label products for selling on the platform.
Product That Is Small, Lightweight, and Has 100 Reviews
The shipment costs of heavy items are high. The same is true for the size of a package. If the item is large, it will cost you more to ship, and you will end up making a lesser profit. By choosing small and lighter products, you will make the FBA fees and shipping costs manageable.
Still, you do not want to go too small or light. You have to protect products with fragile inner parts, such as electronics and glass. Pick sturdy, easy to handle, and durable products. Ensure that the product has less than 100 reviews.
While reviews are important, picking a product with many reviews is a bad idea. That is for a reason you will have to deal with high competition. A product with fewer reviews will make it easy to amass 5-star reviews, which will affect your rating positively and increase your chances of standing out.
Product That Retails From $25 – $50
This price range makes it easier to cover all direct costs such as the cost of goods sold (COGS), Amazon fees, and advertising costs. If the price goes beyond $50, the conversion rate or the percentage of people that view your products and buy them will reduce.
Product That Is Easy To Manufacture
One of the things you would want to avoid when selling on Amazon is manufacturing and quality control challenges. So, avoid electronics, glass, and other complex products. Go for the products that are simple to manufacture.
Product That Can Be Sold Year Round
Choose products that you can sell throughout the year and not during some seasonal periods. Add Google Trend Report Chrome Extension to check the seasonality of products you plan to sell. If the demand for some products spikes in some seasons, avoid such products.
Product That Has a Room for Improvement
Some products are hard to improve. So, you have to identify them and avoid them. After choosing products that are easier to improve, you will manage to create superior products. All you will need to do is implement feedback from the reviews of your competitor's products.
What are the Best Products to Sell on Amazon FBA
One of the hardest parts about selling products on Amazon is finding the products to sell. If you pick niche products, you will run the risk of people never hearing about it or requiring them. Also, you will face high competition after choosing a popular product. So, how do you choose the products to sell on Amazon FBA? Here is how to do it.
Manually Conduct Research on
Amazon.com
Your first step when searching for the best products to sell on Amazon is using the Amazon keyword research tool. The tool is designed to help people validate the product demand and display the search volume of any product. That means you will get to know the number of people searching for the products you intend to sell and determine whether it is worth selling.
Check Out the Amazon Best Sellers List
Amazon's best sellers list is also important. After all, you will be selling your products on the platform. The list will provide you with a list of the best-selling products, ranging from games and toys to electronics.
Further, you can visit the Best Sellers section to see the top hot sellers and the products they offer. That will help you choose the best products and avoid making losses.
Find a Gap in the Market
While this method might sound complicated, it allows you to sell the products to sell on Amazon easily. All you have to do is identify what your potential customers want. While you may have the budget and time for a focus group to get the feedback of your customers on the products they want and what they like or hate, that does not work always. Most vendors have a limited budget and less time.
So, mining Amazon customer reviews is the best method. It is cost-efficient and timely.
Search for Amazon reviews relating to the products you want to sell. Check what buyers are raving about and look for unsatisfied buyers. Use the complaints to modify your products.
Amazon reviews provide first-hand information about the products people like. The information will be helpful when deciding what to sell and what to modify.
Think of Becoming a Private Label Seller
One of the great things about Amazon is that you can combine Amazon FBA with private label selling. All you need to do is develop your private label products, and Amazon will do the rest.
Reinventing the wheel and inventing a new item can be a bad idea. Private labels allow you to choose the great-selling products and re-introduce them to the market with an improved twist.
Only Source Items That Are Smallish, Lightish, and Durable
Avoid the big items. The shipping costs of such products are high, and that means your profit margins will be lower. The same applies to heavy products. Products that can fit in a small box are easy to transport, and their shipping cost is low.
Further, you will have to choose durable products to minimize customer complaints. Some lazy shippers may be careless when handling your products. That may cause damages to the products, and your customers will complain. Quality products are less likely to break.
Try, and Source Items That Are Easy and/or Inexpensive to Make
You will make a higher profit after choosing products that are cheaper and easier for the manufacturer.
For example, take consider the manufacturing of Bentley and Honda Civic. The latter can be built within a few hours, while the manufacturing of the former takes months. The costs of production reflect on the cost and profit. That is true for Amazon products too.
Find products that don't have too much competition.
You want to select profitable products with the lowest competition. Tools like SEMScoop will help you analyze the competition of keywords and choose the right products.
The tool provides priced plans starting at $10 per month and a free plan. The priced plans are a good option if you plan to use the tool more often.
Follow the Product's Seller Ranking and Sales History
Checking the sales history of a product and seller ranking is important. The product history will help you identify the popular products that you can sell throughout the year. On the other hand, the seller ranking will provide you with an idea of the number of units the competitors sell.
What are the Most Profitable Items to Sell on Amazon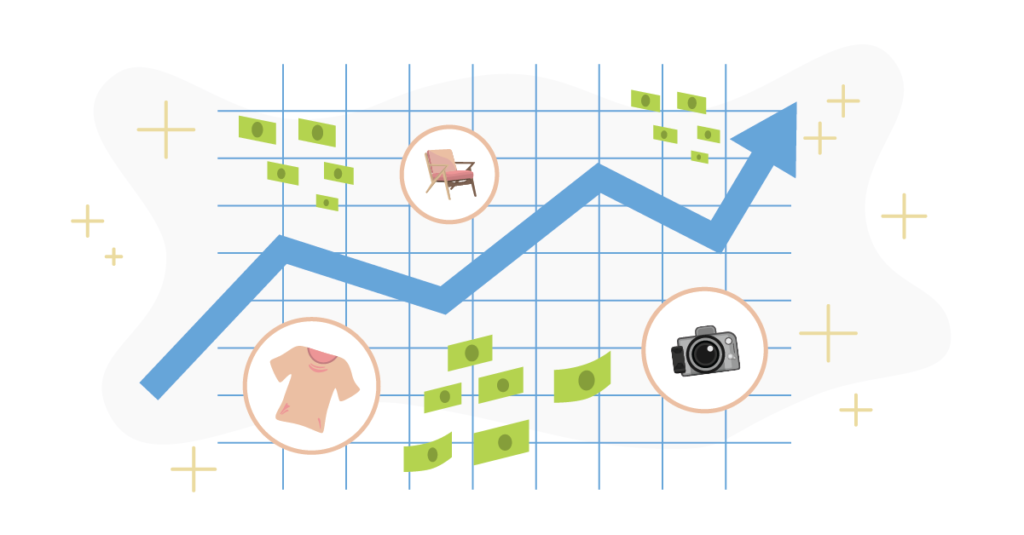 Amazon offers a wide range of products. For that reason, it can be hard to find a perfect niche. Fortunately, the internet offers many tools that you can use to identify profitable products. Here are the factors you have to consider when searching for profitable products to sell.
High Margins 35%-50%
Choose products with higher profit margins (between 25 percent and 50 percent). Estimate the amount of profit you would make per product and your return on investment. Use online tools to calculate the amount. The tools will require the product details such as the weight, price, cost, storage fees, pick and pack fees, monthly sales, and total FBA fees.
The selling price between $25 and $50
The best-selling products are not expensive or inexpensive ones. They are usually priced between $20 and $50. Most people shop on a tight budget, and they would not want to spend a lot of money on a single item. Still, they associate inexpensive products with low quality.
The Product Should Be Small and Lightweight
As we have already stated, the shipping of large and heavy items is expensive. That can reduce your profits.So, you have to pick smaller and lighter products to avoid spending more on shipping and paying more FBA fees. Ensure that the products are not too small or too light such that they can be easily crushed.
Good Packaging
Good packaging will help you earn the trust of your customers. It will prove to them that you care about their orders and save yourself the cost of damaged and broken products. The packaging is more important for liquids, fragile items, electronics, apparel, and fashion accessories, and baby products and toys.
Avoid Fragile Products
Avoid too small or too light products because you do not want them to be damaged easily during shipping. Products with fragile inner parts, such as electronics and glass, can break easily too. So, pick durable, sturdy, and easy to hold items.
Under 150 Reviews
Reviews are important, but you should avoid products with many reviews. That means the products are very popular and you will have to face many competitors. Products with few reviews will easily get 5-star reviews, and your rating on Amazon will rise.
Evergreen and Sold Throughout the Year Products
You have to avoid seasonal or holiday-oriented products because they will affect your Amazon Best Sellers Rank (BSR). Choose Evergreen products that you can sell throughout the year if you would want to maintain a good and stable BSR.
How to Find Out What Products are Trending on Amazon
Most Amazon beginner sellers claim that the hardest part is figuring out whether the products they intend to sell are ideal for Fulfilled by Amazon (FBA). Here are the methods you need to find the most popular products on the platform.
1. Amazon Research Tool
The Amazon Research Tool should be your first tool when searching for products to sell on Amazon. The keyword research tool is data-driven, and it will therefore provide you with reliable results. You will get a list of the items people are searching for.
2. Low Competition Keywords that Trigger Ads on Google
Choose low competition keywords that have been triggering ads on Google. That way, you will drive more traffic to your products. Figure out what each low competition keyword is about before you use it on Amazon.
3. WatchCount to see what is Best-Selling on eBay
You can also pinpoint the best-selling products by researching the popular products on eBay. Use WatchCount.com for the best results. WatchCount.com offers the most popular items on eBay at any time. The tool uses the results from eBay to rank products.
4. Amazon Reviews
Amazon reviews will provide you with adequate information about the type of products and the quality customers expect. Search for items that people rave about and unsatisfied customers and the products they dislike. Use the complaints to modify your products.
5. Alibaba
Searching Alibaba will provide you with a list of the best white label products to sell on Amazon. Alibaba provides a list of products that overseas suppliers offer. Research the list and choose the hot selling items.
6. Amazon Best Selling Categories
Amazon provides a section of the bestselling product categories. By checking the section, you will avoid choosing slow-moving products. Whether you are planning to sell electronics or toys, the bestselling section will point you in the right direction.
7. Jungle Scout Find Niches
Your goal should be to choose products with low competition. JungleScout.com allows you to find them perfectly. All you need to do is enter the keywords associated with your products. The tool will inform you whether you have chosen a low-difficulty niche.
8. Reverse Engineer
Uncovering where the major players are trying to push traffic will provide you with a list of items that are more likely to sell out faster. Most players have large analytics and marketing teams that identify fast-moving goods. They do not want to waste any of their time on products that do not work. MensHealth.com is a good example of a site to try.
9. Google Trends
Google Trends provides the trending topics you need to narrow down your product choices. This tool highlights the popular products in all niches. So, you will get a good idea of the products to sell.
10.Browse Amazon Listings and Chrome Extension
Further, you can use the Google Chrome extension to power browse Amazon listings.
Some of the best Google Chrome extensions to try are SellerApp, Jungle Scout, Unicorn Smasher, AMZ Base, AmazeOwl, and Helium 10.
The extensions will help you browse Amazon listings faster and identify the products to include in your list.
How to Find Best Sellers Rank on Amazon
Each product category on Amazon has unique Best Sellers Ranks (BSR). The Best Sellers Rank for Appliances may not be as strong as that of the Patio, Lawn, and Garden category. Unlike the Appliances category, the Patio, Lawn, and Garden category witnesses more sales.
To check the BSR, move to the bestselling products page on Amazon and click on your target category. Everything on this page is selling very well on the platform. Remember that the best sellers on Amazon.com might not be the top sellers on Amazon.es or Amazon.co.uk.
What are the Top 10 Items Sold on Amazon
To make money on Amazon, you have to choose the bestselling products. We have created a list of the top-selling products to simplify the selection process for you. Here is the list.
1. Hot Air Brush
People have realized that outdated or traditional items like manual hair curlers and flat irons are ineffective. They have to spend more time getting their desired results when using them. For that reason, they are going for hot airbrushes. They can straighten, curl and dry their hair without the need for an additional tool.
2. Ice Maker Machine
Most people avoided ice maker machines in the past because they were expensive. They were also inconvenient. Technology has changed that. Today, ice maker machines are available for both commercial and home use. They are also inexpensive, something that has influenced many people to start buying them.
3. Indoor Outdoor Video Camera
Home surveillance cameras allow people to monitor their homes, business premises, or any location. The demand for these video cameras has risen recently, and they are among the most profitable products to sell on Amazon.
4. iPhone XR Screen Protector
Screen protectors for iPhone XR are made to make the screen pristine. They are made of tough and durable ballistic glass material. Most iPhone owners are buying them, and you can increase your profits by selling them.
5. Kid's Tablet
Kids love tablets. Tablet developers have made tablets for kids to help them learn and access the right entertainment. People are buying tablets in large numbers to prevent their kids from stealing their mobile devices.
6. Portable Car Vacuum Cleaner
The inside of any car has to stay clean. The buildup of debris can cause allergies and other health conditions. Further, dust, dirt, and crumbs can make the car interior less cozy. People have realized that portable car vacuum cleaners can help them keep their cars clean all the time. For that reason, the demand has risen.
7. Scissors
Professional hair stylists buy professional hairdressers or multipurpose scissors from time to time. They provide accessible and easy haircutting. You will make more profit by selling them on Amazon.
8. Seat Cushion for Office Chair
People have realized that office seat cushions can help them correct their posture at a fraction of the price of a quality therapeutic chair. Amazon vendors are selling them in large numbers. You can start selling them today to make more profit.
9. Smart speaker
The Covid-19 pandemic has forced many people to spend more time at home. For that reason, the demand for smart speakers such as Google Nest and Amazon Echo has increased. The producers have also made the speakers more appealing to the buyers. Therefore, you will make more money if you sell them.
10. TV 4K Voice Remote
Unlike streaming apps, games require better processing. People who regularly play games on Amazon Fire TV Stick have realized the importance of upgrading to the new one. The new one allows them to connect Bluetooth gaming controllers and use a voice remote.
How to Find the Best Products to Sell on Amazon
You would not want to invest in a business that is not lucrative or one that takes many years to start making money. All products on Amazon are not hotcakes. Some will take many years to sell. Here are the things to consider when choosing products to sell on the platform.
Real Demand
Products in real demand can satisfy a want, and your customers will be willing to pay for them. Some products look fancy and interesting. Unfortunately, they cannot solve real problems for your customers.
Saturation of the Product
It will be hard to beat the existing competitors if the market is already saturated. Actually, the generated profit might not even cover the operating costs.
So, you will have to choose products with great sales potential and low sales volume. In other words, choose a product with 10-60 daily sales volume and less than 200 reviews.
Profit Margin
The profit margin of a product will determine the revenue your business generates. Products with a high margin will save you more energy and time and generate more revenue. Experts recommend products with a profit margin between 40 percent and 70 percent.
Easy to Transport
Choose products that are light and small. Such products are easy to pack and ship. Avoid fragile products and those that break easily to reduce the shipping risks.
Don't Be Too Trendy or Seasonal
Try not to choose holiday-oriented or seasonal products when searching for products to sell on Amazon. Try to choose products that you can sell throughout the year.
Avoid Amazon Self-Operated Products
Amazon is not only the largest eCommerce platform in the world, but it also sells its products. It has the largest eCommerce customer base, and it can point more traffic to its products. So, it is good you avoid products in the niches Amazon dominates.
Avoid Branded Products
Most branded products are trademarked. That means you will have to pay a trademark authorization fee to start selling them. That alone will reduce your profit margin. Further, people prefer authoritative channels like the official shop or website when buying branded products.
Where to Source Your Products From?

To achieve success on Amazon, you have to choose the right product sources. After choosing the right products, importing from China will be the right decision.China manufacturers offer high-quality products at a lower price. Here are the options you will have when it comes to importing.
Alibaba.com
Alibaba is the leading platform in the world when it comes to connecting wholesale buyers and sellers. It allows both small and large businesses to sell their products in any part of the world. The sellers on the platform are mainly distributors and manufacturers based in China and some other countries like Pakistan, India, Japan, and the United States.
This is a third-party site that connects buyers with Chinese suppliers. It is similar to Alibaba.com, and it requires every Chinese supplier to create a homepage on the site to start selling. The homepage has to include an introduction, the company profile, and the product listings.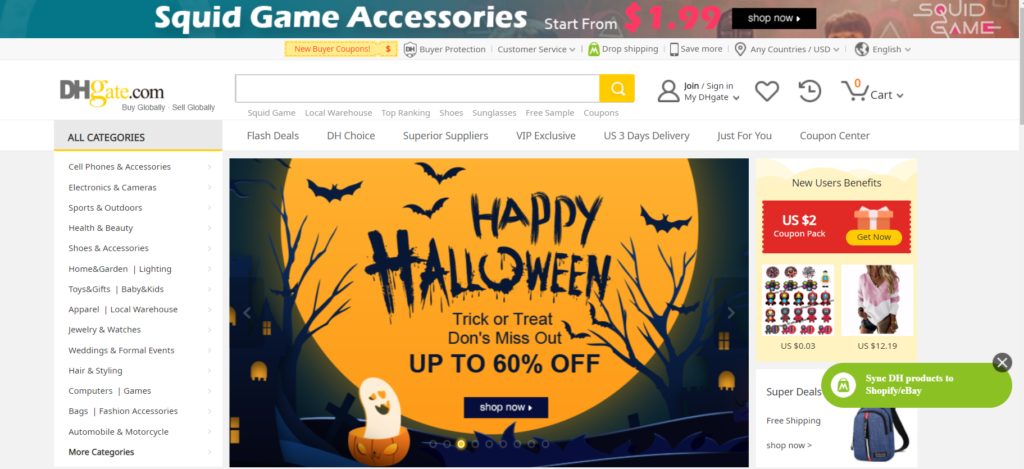 Dhgate is another leading wholesale marketplace that offers a wide range of competitively priced high-quality products made in China. The price of products on this platform is lower than that you expect on many other wholesale eCommerce platforms. Furthermore, the payment handling system only passes the payment to the sellers after the buyer receives the goods.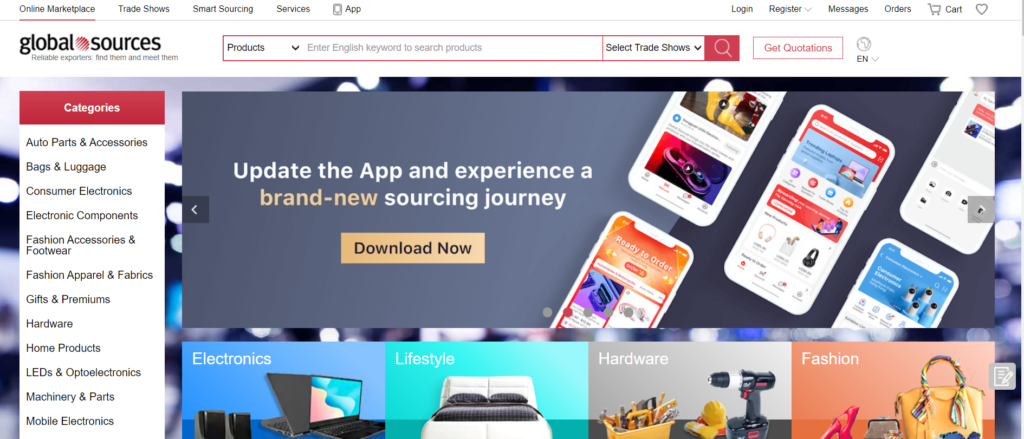 GlobalSources lists the details of each supplier and product. That helps buyers to choose the best sellers. You can also choose GlobalSources trade shows to connect with Chinese traders.
Aliexpress, owned by Alibaba Group, is the leading online retail eCommerce platform. Launched in 2010, the platform helps small businesses reach customers in all parts of the world. After choosing this platform, you can source from individuals or manufacturers. The platform is aimed at international buyers, particularly in Brazil, Russia, United States, and Spain.
Chinabrands is a wholesale and dropshipping platform. The business-to-business eCommerce site facilitates the sale of products from small and large sellers from China. It only lists the quality suppliers. That means you will get quality products. It operates in French, English, Italian, German, Spanish, Russian, and Chinese.
7. Sourcing Agent
Certified sourcing agents are more reliable when it comes to sourcing products from China. The agents will take you through the product sourcing process and ensure that you only buy quality products. You do not have to travel to China.
How to Find Best Selling Products on Aliexpress
The AliExpress homepage displays a list of its bestselling products. You will find the bestselling and popular products in each of the 13 categories AliExpress offers. Further, you can use filters to narrow down the results.
How to Find Best Selling Products on Alibaba
Alibaba offers a wide range of products at low and negotiable prices. To find the best-selling products on this eCommerce platform, move to the homepage and type the keyword "trending" in the offered search tab, and include the current year. Hit the enter button, and you will get a long list of products that are in high demand. Explore the products and choose the ones you want to sell.
Why Choose HunterSourcing as Your Sourcing Agent in China?

Huntersourcing is the right best choice if you do not want to travel to China. All you need to do is tell our agents what you need, and they will find a suitable factory, confirm the samples and do all the necessary inspections. They will finally ship the products to you. Here is a list of the services Huntersourcing offers.
Products Sourcing

Import & Export Consulting

Samples Collection & Quality Inspection

Factory Audit

Price & MOQ Negotiation

Order follow-up

Quality Inspection

Free Warehousing (60days)

Goods Consolidation

Amazon FBA Service

Low-cost shipping door to door Solution

Products Photography
Conclusion
You cannot pick any product that comes your way when starting an Amazon business. The products you choose must be of interest to the consumers, offer a high-profit margin, and are not expensive or cheap. They should be packaged properly. The above guide will help you choose such products. Huntersourcing will help you import easily from China.
Related Post
Contact Us Get Free Quote!
* Please kindly fill out the form for inquiry
* we will reply to your inquiry within 24hours