Top 10 Wholesale Fabrics Market in China: Ultimate Guide
Everyone loves saving money. But did you know that you could save a lot by importing wholesale fabric from China? Direct importation will help you get rid of the intermediaries that may cost you a lot of money. Moreover, it will help you get quality products only.
1. Why Buy Wholesale Fabrics from China
2. Where to Buy Wholesale Fabrics from China
2.1 Guangzhou Zhongda Fabric Market
2.2 Shaoxing Keqiao China International Light Textile City
2.3 Dongguan Humen Fabric and Accessory Markets
2.4 Jiaxing China Southern Textile City
2.5 Shanghai Light Textile Market
2.6 Fujian Shishi Yuanyang Pool Fabric Market
2.7 Jiangsu Changshu Jingu Cloth Market
2.8 Nanhai Yanbu Cloth Market
2.9 Jiangsu Shengze Cloth Market
2.10 Haining China Home Textile City
3. Order Wholesale Fabric Online from China
4. How to Buy Wholesale Fabrics from Chinaexpress
5. Why Choose Huntersourcing as Your Wholesale Fabric China Agent?
6. Conclusion
While the China fabric market offers many options, both wholesale and distributors, not all are reliable. This guide will help you avoid the issues expected during the importation and get your fabric from reliable sources only. We have also listed the top 10 wholesale fabric markets in China to help you choose your destinations wisely.
Why Buy Wholesale Fabrics from China
The choice between retails and wholesale fabrics from China highly depends on the number of fabrics you need. When shopping for one or even two lengths, fabric importation wholesale will be a bad idea. However, if you need bulk fabrics for your large projects or retail, then importing them wholesale is the best thing to do. Here are the key reasons you will want to import from China's textile market wholesale.
Lower Prices
By buying wholesale, you will get each unit at a lower price. China is widely known for offering inexpensive products. Besides, the sellers will be willing to offer discounts because they will ship a larger amount of fabrics at once. Mostly, the supplier will pass a part of the savings to you directly.
Establish a Good Business Relationship
Most Chinese wholesale suppliers are usually keen to establish good business relationships with their customers. They mainly do that to build a reliable source of income. For that reason, they will offer special privileges to anyone buying wholesale. After developing a good relationship with them, you will manage to negotiate for better prices on any type of fabrics you need.
Industry Knowledge
Companies that supply fabrics wholesale have adequate industry knowledge. So, you will establish connections with reliable fabric suppliers and people who can get you the best deals. You will avoid making losses and get high-quality products.
Where to Buy Wholesale Fabrics from China
China offers many wholesale fabric markets. The markets offer many fabric vendors, meaning that you will have many choices. You will also find it easy to negotiate for the best prices. We have gathered the top 10 wholesale fabric markets to make your selection work easier. They are the best fabric source for people who would want to stick to their budgets.
1. Guangzhou Zhongda Fabric Market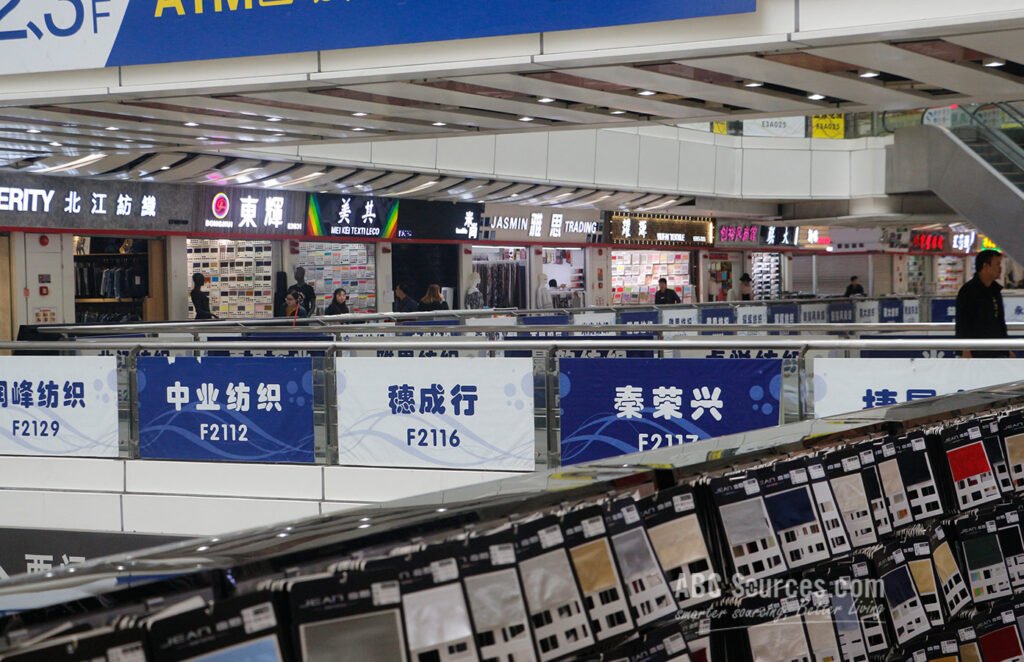 Guangzhou Zhongda Fabric Market is situated in Haizhu District Guangzhou. It is currently the largest textile wholesale center in Asia. The textile center has over 300,000 square meters of wholesale space occupied by vendor shops. Further, it has more than 4,000 textile wholesale suppliers from all parts of China. So, by choosing this Guangzhou fabric market, you will find China's textile wholesale suppliers easily. In fact, around 70 percent of all wholesale vendors in the fabric market are China fabric suppliers. Most of them will be ready to offer customized services.
You will find a wide range of textile products in this China textiles market. For example, you can choose knit, woven, jeans, or even sports fabrics. You can also choose polyester, lycra, jacquard, accessories, and trims like zippers, buttons, and lace. Still, you can choose some of the latest or trendy items such as lingerie, knitwear jersey, sportswear, and lingerie to add to your collection.
What to Expect on Every Floor
The sales building offers a very large space for vendors and shoppers. Expect hundreds of china fabric factories on each floor, each offering a wide range of products. Here is what you will find on each floor.
First Floor to the Third Floor
The three floors offer over 2000 fabric shops, offering a wide range of textile products. There are Chinese buying agents on these floors to guide clients due to the many product categories and different prices. The textile wholesaler accepts both large and small orders.
Fourth to Sixth Floors
Expect to find offices and showrooms of large China fabric manufacturers and brands on the fourth, fifth, and sixth floors. You can order customized products in this place.
Seventh Floor
The seventh floor is currently the service zone. You will find restaurants, banks, and meeting rooms. Furthermore, there are purchasing agents to guide you.
Negative One and Negative Two Floor
On the negative one floor, you will find fabric accessories and trims. On the negative two-floor, expect decoration materials such as hotfixes, padding, and laces.
2. Shaoxing Keqiao China International Light Textile City
Shaoxing Keqiao Textile Fabric Market is the primary source of fabric for Chinese customers and those from the international market. Keqiao textile market offers many market zones, each offering different types of fabrics. So, if you are planning to do your shopping in this Shaoxing textile market, you should do your homework. The North Market is the best choice for people in need of fabric products. Here is what to expect on the first floor of the North Market.
Section 1
In section 1, expect cotton fabrics, peach fabric, T/C, yarn-dyed fabric, canvas fabric, pocket lining fabric, and jeans fabric.
Section 2
In the first street of section 2, you will find lace, mesh fabrics knitted fabrics, lace, net fabrics, and chiffon fabric. In the second street, expect mesh fabrics, embroidery, and lace fabrics. On the third street, you will find embroidery fabric, rayon cotton, and poplin
Still, you can move to fourth street when shopping for burnout chiffon fabric, tricot, and knitted jacquard. When on Fifth Street, you will find printed knitted fabric, and cotton fabric. Sixth street offers satin fabric and chiffon fabric, while seven street offers fur fabrics.
Section 3
Section 3 has many streets, but the main products in this place are jeans fabrics, canvas, suede, and cotton fabrics. You will find the fabric selection work easier.
Section 4
The fabrics to expect in this section include plush velvet fabrics for toys, corduroy, flocking fabric, linen fabric, linen-look fabrics, and linen. In the fifth street of this section, you will find a wide range of shirt fabrics.
Section 5
Section 5 of the North Market offers a wide range of shirt fabrics. If you are not satisfied with what the first floor of the North Market offers, you might need to try the second floor. In the first section of the second floor, expect mesh fabrics and uniform fabrics for traffic police. After moving to the second section, you will find curtain blind fabrics, curtain accessories, and curtain poles.
The third section has a wide range of sofa fabrics and curtain accessories. Both section four and section five provide a wide range of curtain fabrics and hotel fabrics. The third floor is a good choice if you are planning to buy voile fabrics, sheer fabrics, and curtain fabrics.
3. Dongguan Humen Fabric and Accessory Markets
There are many clothing manufacturers in Humen Town, meaning that you are unlikely to miss anything that you need. Furthermore, the town provides many wholesale markets for fabrics and accessories. Dongguan Humen Fabric and Accessory Markets provide all types of materials needed in the production of clothes.
Even though the wholesale markets in Humen are smaller than those in Guangzhou, they have generous vendors. They are ready to provide samples and swatches. The markets open each day of the week between 8.30 am and 6.00 pm. Besides, the prices are comparable to those expected in Guangzhou.
The textile wholesale markets are situated on both sides of Renmin North Road. If one of your goals is to meet many textile wholesalers, you have to choose the center of this area. Visit the Fumin Cloth Market and HICC for fabrics. Xing Yu Accessories and Fortune Accessories provide quality garment accessories.
4. Jiaxing China Southern Textile City
The location of Jiaxing, China, is in the shadows of big neighbors. Nevertheless, that has not prevented it from emerging as an important economic region. The population of Jiaxing is over 4.6 million, something that helped it stand as a hotbed of China's economic activities. It will take you around 1 hour to travel to this place from Shanghai, China. The textile wholesale market borders big cities, including Huzhou and Hangzhou.
According to the owners of Jiaxing China Southern Textile City, the main fabric styles are creped Chine, elastic chiffon, and embossed chiffon. The market also provides two types of filament chiffon fabrics, which are polyester FDY Chiffon and Polyester semi-extinction.
At present, the market attracts customers from Jiangsu, Shanghai, Zhejiang, Hangzhou, and other places. The management claims that the products are of great quality and the prices are moderate. Further, the supply is tighter.
5. Shanghai Light Textile Market
Shanghai Light Textile market is among the most vibrant textile trading hubs in the globe. Over 29,000 textile suppliers manage more than 40,000 types of products in this market. Further, the wholesale textile market receives more than 100,000 customers each day. Most importantly, its sales network covers 187 countries and regions.
The market is among the first light textile market in China. Locals who need low-cost locally made clothing and accessories have been shopping in this place. After choosing this china fabrics market as one of your shopping destinations, you will have to be patient. It has many vendors, and some of them may not provide the quality you need. Some vendors will also notify you immediately after you step out of a taxi. So, be cautious and stick to the shops and public stalls.
6. Fujian Shishi Yuanyang Pool Fabric Market
Fujian Shishi Yuanyang Pool Fabric Wholesale Market is currently the most influential textile market on Taiwan Strait West Coast. The market is under the support of the municipal government, municipal party committee, and some other departments. It has 9 central districts, 6000 storefronts, 1000 company headquarters, and 6000 warehouses. It has also established over 5,000 branches in specialized textile markets in China and other countries.
The municipal party committee and the municipal government have adopted many policies to stabilize this market and welcome many vendors. Recently, the market was recognized as the most influential market when it comes to commodity trading. It has also won many other titles.
Since 1980, the market has been supplying a wide range of China fabric wholesale. The products to expect in the market include casual wear fabrics from local manufacturers. Further, you can buy clothing products under registered trademarks such as Fuguiniao, Septwolves, Seven, Yepao, K-Boxing, Pin, EDEBO, Joe One, Hadley, and Wales. Primary garment traders, wholesalers, and more than 6,000 clothing shops occupy its 18 streets.
7. Jiangsu Changshu Jingu Cloth Market
Jiangsu is another leading garment and textile production base. Data from China National Textile and Apparel Council shows that Jiangsu stands as the third-largest garment and textile producer after Zhejiang and Guangdong.
In the year 2006, the sales revenue of garments and textiles stood at RMB 362.9 billion, and the net profit was RMB 10.5 billion. Further, Jiangsu is a leading export market. It exported garments and textiles worth US$9.58 in 2007 and the amount increased by 17.4 percent in 2008. Currently, it stands as the third province in the list of China provinces.
Changshu Jingu Cloth Market is situated in this province. The market is located in the southern area of Changshu, around 20 miles from Suzhouthere. It has 5 separate multi-floored clothing malls, meaning that you will get many suppliers to try. The shops are many, and they cover almost every type of shoe, clothes, and bag. Further, there are many hardware malls. You will also get all types of fabrics in this market.
8. Nanhai Yanbu Cloth Market
China has many fabric markets, and Nanhai Yanbu Cloth Market is among the leading. This market has great decoration and standardized management. When it comes to this wholesale fabric market in China, you will have a wide range of products to try. Most cloth dealers in this market are usually keen to establish business relationships with their buyers. For that reason, you should expect special privileges when buying fabrics wholesale.
Further, the market offers you a good chance of meeting fabric suppliers with extensive experience in the industry. That means you will learn something new each time you travel to this place. You can buy denim fabric, stretch denim fabric, cotton denim fabric, cotton poly-denim fabric, and many other types of fabric. The best news is it will take you only one hour to reach this market from Guangzhou Airport by taxi. The high-quality products, efficient development, and innovative services attract customers from all parts of the globe.
9. Jiangsu Shengze Cloth Market
Shengze, situated in the southern part of Jiangsu, is an important part of the Yangtze River Delta, which is a silk textile town with an extensive history. Shengze is widely known for its prosperous silk trade and developed silk weaving that started as early as the Qing and Ming Dynasties. The ancient Shengze town, together with Huzhou, Hangzhou, and Suzhou, was called "China's four major silk capitals."
Today, the town owns more than 2,500 textile enterprises. The enterprises have a 3.25 million tons spinning capacity, 3 billion meters finishing capacity, and 12 billion meters weaving capacity. Initially, Shengze had a complete chain of silk reeling, weaving, chemical fiber spinning, fabric deep processing, dyeing, printing, and garment making.
One of the important things you will find in this China fabric wholesale market is the Jiangsu Shengze Cloth Market. The market has many wholesale fabric vendors who sell a wide range of fabrics. You can choose stretchable and flexible fabrics from the market. Regardless of the garments and costumes you want to make, you will find something to match your needs. The market offers polyester, spandex, cotton, nylon, and many other types of fabrics.
10. Haining China Home Textile City
Haining City is located in the Yangtze River Delta zone and in Zhejiang Province. It is around 60 km to the east of Hangzhou and around 120 km west of Shanghai. Further, it is around 100 km to the north of Ningbo and 90 km to the south of Suzhou. The city has a population of 660,000 individuals, and it is surrounded by a network of highways and railways that connect it to Hangzhou, Suzhou, and Shanghai.
Therefore, you can easily reach the Haining China Home Textile City wholesale market from any part of China. This market is among the largest wholesale fabric markets in China and Asia. Even more, it has many fabric manufacturers in China who offer quality cotton knitted fabrics, chemical fiber warp knitted fabrics, decorative fabrics, and many other types of fabrics.
Order Wholesale Fabric Online from China
You must look for the best fabric suppliers and manufacturers when shopping for fabrics from China. You can source fabrics online through fabric-sourcing companies or fabric-sourcing agents. Online wholesale platforms provide a better source for wholesale fabric buyers. The platforms provide many suppliers with a wide range of products. After opening China's fabric market online platforms, you will only need to select a supplier that matches your needs. Here are the leading online China wholesale platforms to try when shopping for fabric.
Aliexpress
Most individuals do not know the connection between Alibaba and Aliexpress. Also, they do not know the characteristics of each of the two platforms. Alibaba is a platform for big sellers, while Aliexpress caters to both small and big sellers. The big fabric sellers on Aliexpress are big trading companies and manufacturers.
Factories can produce goods in large quantities, meaning that they can provide you with the exact quantity of fabric you need. On the other hand, large Chinese fabric trading companies have enough money to buy goods in large quantities and resell them to small buyers. The trading companies mostly sell the products at a lower price, which is the reason you will find many similar products on Aliexpress selling at different prices.
The other important group of sellers on this platform is the small sellers who opened their online stores recently. Their primary goal is to expand their business. For that reason, they work hard to reach as many customers as possible. That means that they sell their products at a lower price, including at zero profit. Most people looking for quality fabrics at a lower price will choose Aliexpress.
Alibaba.com
Alibaba stands as one of the leading B2B eCommerce websites. The platform was the first to introduce the wholesale eCommerce concept. Further, it opened the door to the worldwide market for Chinese factories. Before Alibaba came into being, it was very hard to search for products from China online and negotiate with suppliers.
Alibaba solved most of the problems people faced when importing products from China. Today, you can communicate with many fabric suppliers in China without leaving your home. While Alibaba does not sell any products, it allows buyers and sellers to meet and conclude agreements.
Each seller has to create an account and list all products. After that, buyers can choose the supplier they want and order the quantity of wholesale fabric they need. You can try as many fabric suppliers in China as you want.
Made-in-china.com
Made in China is among the oldest Chinese wholesale websites that target international buyers. The site was launched in 1998, and its headquarters are in Jiangsu, China. The platform has adopted several policies to guarantee the safety of buyers.
First, it lists only the verified suppliers. Each of the suppliers should have a verified badge near the name. Secondly, the platform offers secured trading services. The suppliers will only get the payment after they deliver the products to you.
Furthermore, most of the sellers on this platform are large trading companies and factories. Most of the suppliers also sell their products in bulk. The delivery time ranges between 15 and 25 days.
DHgate.com
DHgate is another important platform to choose from if you want to buy fabric from China online. You will find factories, small trading companies, and medium fabric trading companies on this platform. Factories on this platform have a wide range of products, and they are a perfect choice for people looking for both retail and wholesale products. Typically, medium and small-sized trading companies buy products from the factors and other wholesale networks and sell them on this platform. Most of them prepare inventories as the demand changes, and they do not buy a lot.
The companies can buy fabric from various suppliers for resale on this platform. So, if you want to buy similar products, you will have to contact them before placing an order. Otherwise, you might end up with many products of different quality and appearance.
Globalsources.com
GlobalSources.com is a perfect choice for people looking for a wide range of wholesale fabrics online. Unlike other platforms, Globalsources.com is not only a marketplace. It is also a sourcing service provider and a trade show organization. Similar to AliExpress, Alibaba, and DHgate, this website connects fabric and other product suppliers to buyers. It also lists all trade shows and Chinese fairs and helps register others.
Unfortunately, GlobalSources.com has a complicated buyer safety system. The platform displays a Verified Manufacturer account on the profiles of sellers they have verified. Their verification system involves checking the business licenses and other important documents. Keep in mind that the platform does not offer a direct buy mechanism. You will have to contact a seller and discuss the pricing, delivery, and payment.
How to Buy Wholesale Fabrics from China
Textile and fabric manufacturers are not the same. Therefore, you are likely to end up in a problem if you choose an online fabric supplier or factory without verifying whether they can provide the products you need. The following are the three reliable methods you can use to source wholesale fabrics from China
Wholesale Fabric Direct
Fabric Wholesale Direct is changing how people source high-quality fabrics in China at wholesale pricing. The wholesale fabric store provides a wide range of fabrics and trims at an affordable price. Even more, the platform provides both professional and novice professional sewers in many textile fields like design, craft, retail, and event planning. You will always get the type of the best cloth  you need from this platform.
As a direct manufacturer of many types of fabrics, Fabric Wholesale Direct controls all production aspects. That means you will always get top-quality products. The pricing is competitive, and you can place orders of any size.
Wholesale Fabric Suppliers
The wholesale fabric supplier you choose is as important as the fabric you select. That is the reason the quality of the fabric and the shipping can affect the products. When searching for a wholesale fabric supplier, you should consider several factors the fabric source and the delivery timeline.
Wholesale Fabric Sourcing China Agent
This is possibly the easiest way of sourcing fabrics from China. China has many sourcing companies and agents that can help you import fabrics from China at an affordable price. All you will need to do is state your fabric specifications, and the sourcing agent will look for the best manufacturer. They will also ensure that the fabrics are of great quality and negotiate for a better price. Finally, they will ship the fabrics to you.
Why Choose Huntersourcing as Your Wholesale Fabric China Agent?
Searching for a China sourcing agent on Google and other search engines is a hard task. However, you are unlikely to find a reliable sourcing agent.
Google will only display a long list of sourcing agents that you will have to contact. You do not have to use search engines. All you need to do is contact Huntersourcing, which is a reliable China sourcing company. Here are the key reasons you should choose this company.
Huntersourcing has more than ten years of rich experience as fabric experts, who can guarantee to understand every fabric you are looking for.

Huntersourcing is familiar with the origin of fabrics in China and knows that different fabrics are located in different production areas and cities.

Huntersourcing maintains a good cooperative relationship with a large number of domestic fabric suppliers in China. We can quickly get fabric samples at very competitive prices.

Huntersourcing has a dedicated agent expert who will help customers from order to shipment, ensuring the safety, quality, and delivery time of the order throughout the process.

Huntersourcing can provide one-stop door-to-door transportation, and customs declaration, and solve all customer worries.

Huntersourcing provides all free quotations and samples.
Contact Huntersourcing today for the best deal. They will match you with a perfect China fabric supplier and negotiate for the best price. After that, they will ship the products to you. That means you will enjoy the peace of mind you need fabric imported from China.
Conclusion
Fabrics have been an important part of life since prehistoric times. That is the reason that people use fabrics for various purposes, especially in the textile industry. Today, the market offers a wide range of fabrics, and each type is used for a particular purpose. You will save a lot of money by importing fabric wholesale from China..
The list of the top 10 China cloth markets will give you a good starting point if you are planning to travel to China for your shopping. Lastly, the online shopping guide will help you choose reliable fabric suppliers and factories and avoid making losses. For the best wholesale fabric experience, you will need to consider Huntersourcing services.
Related Post
Contact Us Get Free Quote!
* Please kindly fill out the form for inquiry
* we will reply to your inquiry within 24hours