The Ultimate Guide to Finding the Best Electric Bike Manufacturer in China
Top 10 reliable electric bike suppliers in China
Traffic congestions in big cities and rapid urbanization are two of the factors that have been driving the demand for electric bikes in the world. People consider E-bikes a safe, affordable, and convenient option for public transportation. Most countries have been working hard to boost electric bike businesses by offering subsidies and changing the regulations to reduce stress on their public transportation systems.
1. What styles of Electric Bicycles are imported from China?
2. Why Import Electric Bikes from China?
3. Where to Buy Electric Bike from China Electric Bike Manufacturers
4. How to Choose the Best Electric Bike Manufacturers in China
5. How Often to Service Electric Bike?
6. Which Electric Bike is the Best?
7. Which Electric Bike Should I Buy?
8 Top 10 Reliable Electric Bike Suppliers in China
8.1 Zhejiang Luyuan Electric Vehicle Co., Ltd
8.2 Jiangsu Xinri E-Vehicle Co., Ltd
8.3 Zhuhai Shuangye Electronic Technology Co., Ltd
8.4 Shenzhen Huatuomingtong Technology Co., Ltd.
8.5 Shangqian Technology (Dongguan) Co., Ltd
8.6 Jinhua Jobo Technology Co., Ltd
8.7 Dongguan Yama Vehicle Co., Ltd.
8.8 Wuxi Muodou Intelligent Technology Co., Ltd
8.9 Xiangjin (Tianjin) Cycle Co., Ltd
8.10 Ningbo lvkang vehicle Co., Ltd
9. Why Choose Huntersourcing as Your China Generator Manufacturers Sourcing Agent?
10. Conclusion
Also, e-bikes are inexpensive, easy to charge, and require minimal investment in supportive infrastructure. Therefore, their demand is increasing.
Expert claims that the value of the global e-bike market was $ 25.03 billion in 2020 and they claim that it may expand at a 9.95 percent rate between 2021 and 2028 to reach a valuation of $48.46 billion in 2028.
That means there are many opportunities in this sector and selling e-bikes is a perfect idea. If you are planning to set up an electronic bicycle business, the best thing to do is import them from China. China has many e-bikes manufacturers, who offer a wide range of electric bicycles. This guide will help you import electric bikes from China easily.
What styles of Electric Bicycles are imported from China?
The market offers various types of electric bicycles for various uses. Most of them resemble traditional bikes and functions. You can import all the available types or import those that your target market needs. Here are the commonest types.
1. Folding Electric Bike
Folding electric bikes are made for the tight spaces expected in urban environments. Their frames articulate through couplings or lockable hinges.
Generally, they come with small diameter wheels to allow fast partial disassembly. Their unique features make them ideal for people who have to walk on stairways and commute in crowded public transportation. They also reduce the needed storage spaces.
However, they are very powerful. People love them for their versatility and impressive cargo capacity.
2. Ladies Electric Bike
Ladies' electric bikes have a low-top tube, which makes skirts manageable when riding.
Also, women are generally shorter than men. They have proportionally longer legs and shorter torsos, narrow shoulders, and smaller hands compared to men. That means electric bikes designed for women should address the differences.
3. Men's Electric Bike
There is nothing like men's specific electric bikes. Men can also ride electric bikes designed for women. Shorter and smaller men find bikes designed for women a better choice for them.
However, men's electric bikes have a saddle different from what you expect on women's bikes.
4. Kids E-bike
China electric bike manufacturers offer a wide range of kids' e-bikes. They are made for small riders and they include full-suspension mountain bikes and dedicated road bikes.
High-quality Kids' bikes are lightweight and have kid-friendly parts. Parents have an option of introducing their kids to riding early by buying tricycles and pedal-less balance bikes earlier.
5. Electric Sports Bike
Electric sports bikes are optimized for speed, braking acceleration, and cornering on paved roads.
Bicycles in this category include electric mountain bikes and electric racing bikes. They feature a small motor that makes pedaling easier. You can also use them for daily commuting.
6. Electric Touring Bike
Some electric touring bikes feature rear racks for modest cargo hauling and light touring.
However, they are not cargo electric bikes. They are a good choice for people who would want to ride a bicycle leisurely in a comfortable recumbent position.
7. Electric Mountain Bike
Electric mountain bikes are rugged machines that come with wide knobby tires designed for riding on narrow dirt trails and flat handlebars. The offered styles include full-suspension cross-country, hardtail, full-suspension endure, and full-suspension trail.
8. Off-road Electric Bike
Off-road electric bikes look exactly like traditional road bikes. They have classic drop handlebars but their knobby tires are larger.
The electric bikes also come with additional accessories such as frame bags, and bottle cages. Their geometry is designed for an upright riding position and stable handling on unpaved roads.
9. Electric Cargo Bike
Cargo bikes are conventional trikes that feature a cargo basket between their rear wheels. They also provide a balance that no bicycle can match.
Even more, they have a larger hauling capacity, in terms of weight and volume. China manufacturers offer electric as well as pedal-only versions.
10. Electric Cruiser Bikes
These are classic swoopy-framed beach cruisers. They come with flat tires, 1-7 gears, and wide chopper-style handlebars. People buy them for various reasons.
11. Electric Fat Bike
Electric fat bikes are among the head-turning bikes. They feature 2.8 inches-wide or even wider tires for traction and flotation.
China e-bike manufacturers mostly build them for riding on snow, sand, and trail. The available styles include full-suspension and hardtail mountain e-bikes, and cruiser e-bikes.
12. Electric Bike Accessories
Electric bike accessories enhance the riding experience. They include helmets, shoes, clothing, sunglasses, lights, computers, bottle cages and bidons, saddlebags, and storage, bells, and tire inflation.
Why Import Electric Bikes from China?
China has the biggest bicycle market on the globe. In fact, it exported over 32.4 percent of the bicycles exported throughout the world in the year 2019. If you are planning to import bicycles from China, you will enjoy many benefits. Here are the key benefits.
The Country Has Many Bicycle Manufacturers
China has the largest number of bicycle manufacturers in the world. Statistics show that the country produces over 3 million bicycles per month, which are exported to many parts of the world. So, you are likely to find all types of bicycles you need for your business.
The Manufacturers Offer High-Quality Electric Bicycles
Electric bicycles from China are of great quality thanks to the raw materials availability and high-end infrastructure. India is the second leading bicycle manufacturer in the world but the government claims that China offers high-quality lightweight bicycles.
High-Profit Margin
China offers high-quality bicycles at nearly half the price you expect in other Asian countries. That means you will make a higher profit compared to people who import e-bikes from other countries. You will see your business grow faster.
Better Scam Prevention Mechanisms
You do not want to lose your money to scammers when importing from another country. Fortunately, China has many reliable sourcing agents like Huntersourcing who will help you get reliable suppliers and reduce your importation costs. Further, you can contact manufacturers directly to reduce the chances of losing your money.
Where to Buy Electric Bike from China Electric Bike Manufacturers
Finding reliable electric bicycle suppliers from China can be a challenging process, particularly when importing from China for the first time. You have to do a lot of research and contact many manufacturers. But if you need the best starting point, here are the methods you should try.
Google Search
Perhaps, you have been using Google for a long time to do your research. But did you know that it allows people to find Chinese manufacturers easily?
When searching for a Chinese electric bicycle manufacturer, you only need to type a few keywords, such as "electric bicycle manufacturers in China," and the search engine will provide you with a very long list of options. Select a few of the manufacturers and contact them. Choose those that meet your requirements.
Trade Shows
Some websites like SaleHoo lists the trade shows taking place in all parts of the world. Visit them and search for the trade shows that will take place in China this year.
Some of the popular trade shows include The Canton Fair in Guangzhou, the East China Import and Export Commodity Fair in Shanghai, and The Yiwu Commodities Fair in Zhejiang.
You will meet many electric bicycle suppliers at the trade shows and see what they produce. Ask about their pricing and take their contact details.
Yellow Pages
Most China manufacturers allow people from all parts of the world to search for their phone numbers, addresses, maps, and driving directions on Yellow Pages.
You can use Yellow Pages to identify Chinese electric bicycle manufacturers and contact them. Super Pages.com and Superior Business Network are also similar to Yellow Pages.
Sourcing Agent
China sourcing agents, such as Huntersourcing, help people import products from China. Usually, the companies have many years of importing experience.
In other words, they already have an established network of suppliers. So, if you contact one of them, they will provide you with a list of reliable electric bicycle manufacturers. They can also visit the manufacturing sites of your preferred manufacturers to monitor the production and quality of products. You can find sourcing agents online.
B2B web
Business to Business (B2B) websites list businesses and share their information, such as the offered products, services, and minimum order quantity.
Unlike Business to Consumer (B2C) sites, B2B sites help import wholesale products from China. A B2C website allows you to import the number of units you need – you can import one unit or thousands of units. After visiting a B2B site, choose a manufacturer and contact them directly. Here are the leading B2B sites.
Alibaba is the largest B2B platform in the world. You can find all types of electric bicycles on this platform. While the prices are low, most manufacturers have high minimum order quantities (MOQ), meaning that you have to buy in bulk.
To identify a good manufacturer, search for the products you need on the offered search bar. Verified buyers have access to the platform's detailed supplier directory that allows them to see the supplier experience, trade records, main customers, and background information.
Made-in-China.com was launched in 1998 and it has been working hard to provide people with high-quality products from China. It lists China suppliers, manufacturers, factories, exporters, and wholesalers. It makes the process of finding the best electric bicycle suppliers easy.
Dhgate.com is among the key competitors of Alibaba. Launched in 2004, the site is among the 1,000 highly visited websites in the world. It lists over 30 million products and it has many distribution centers in various parts of the world. Unlike Alibaba, it offers low MOQs.
This website offers many high-quality wholesalers and it connects Chinese suppliers with customers from all parts of the world. It allows you to choose a manufacturer or a trading company. All you need to do is select a listed supplier and contact them through live chat or inbox. The MOQ varies from one electric bike supplier to the other.
AliExpress, owned by the Alibaba Group, is both a B2B and a B2C platform. While it does not offer a large number of manufacturers, you can place both small and large orders. That makes it a good choice for people establishing their electric bicycle business on limited capital. Check the seller rating when choosing a manufacturer.
Chinabrands.com is a perfect choice for people who want to expand their electric bicycle dropshipping business. The platform works more like Aliexpress and it has solid integrations with many eCommerce platforms like Shopify, eBay, and Amazon. You can reach the manufacturers listed on the website easily.
How to Choose the Best Electric Bike Manufacturers in China
Many lies surround the Chinese electric bicycle market. So, you should know them before you start the importation process. The internet is also full of lies about people who claim to have ordered one thing from China and received something completely different.
To avoid scams, you have to know the people how to find reliable Electric Bike Manufacturers. Consider the following factors.
Speed
High-speed electric bicycles are expensive. Lower-speed bicycles also attract a low price. You do not want to spend a lot of money on a high-speed bike while your target customers require a low-speed bike.
Price
After contacting several electric bicycle manufacturers, you will have to compare their pricing. That way you will get high-quality bicycles at a reasonable price. However, you should consider other factors during the comparison to avoid getting the wrong products.
E-bike Batteries
Batteries are among the most important and most important components of electric bicycles. The battery determines the distance a bicycle can cover without recharging. It also determines the recharging time and the weight. So, when choosing electric bicycle manufacturers from China it should be on your list of key factors.
Size
Electric bicycles are available in many sizes and shapes. They also have amazing features and labels based on the manufacturer's designs. Check the size chart that your selected manufacturer offers to know whether their bicycles meet your specifications.
Frame
The material the manufacturer uses to manufacture the bicycle frame is important. It influences the price and the durability of the bicycle. Low-quality material means that the bicycle will be of a lower price. Consider the needs of your target customers when choosing the frame material.
Design
The model of the bicycle and its design are among the factors that determine the price of the bicycle. A poorly crafted bicycle will attract a low price and a highly crafted one will cost you more.
Sample
After you have shortlisted several manufacturers, it is time to ask for samples. Keep in mind that over 50 percent of the manufacturers may not offer satisfying samples. They may use low-quality materials or take a very long time to deliver the sample.
MOQ
Every electric bicycle supplier has a Minimum Order Quantity (MOQ) requirement. For example, if a manufacturer has set the MOQ at 50 units, you will have to buy over 50 pieces for them to accept your order. The MOQ will also depend on the type of bicycles you are ordering.
Original Equipment Manufacturing (OEM) refers to manufacturing to order. OEM manufacturers make products based on the design and specifications of the buyer.
On the other hand, Original Design Manufacturing (ODM) electric bicycle manufacturers base their production on their designs. They will require you to choose a design from their catalog. OEM manufacturers are a good choice if you need custom designs.
Payment Terms
Payment terms vary from one manufacturer to the other. The standardized payment plan is the 30/70 payment plan, which requires you to pay a 30 percent deposit for the manufacturer to start production and pay the remaining 70 percent after the products meet the quality inspection. You will maintain your leverage if you have not paid the manufacturer.
Product Capacity
Find a company with broad flexibility when it comes to production capacity. The company should accept both small and large orders. A company that only accepts small orders will be forced to outsource production when the demand exceeds its limits. Possibly, you do not want that to happen.
Experience
One of your goals is to find a manufacturer that has been offering the type of products you need for a long time. You should also see a list of the companies they have worked with. If they have worked with companies similar to yours, you are likely to have a better experience than you would have when working with a manufacturer that has not.
Certificates
Ensure that the manufacturer you select has the right certifications. China's government implemented the China Compulsory Certification (CCC) for e-bikes on August 1, 2018. The certification is based on the Chinese Certification and Accreditation Authority of China (CNCA) rules.
Lead Time
The lead time is important. It is the time from when the manufacturer starts the production to the time they ship your goods. Even though you cannot ask the Chinese supplier to deliver the bicycles in 24 hours, the delivery time should be reasonable.
If you are ordering in-stock models, the manufacturer should deliver them within a few days. That is unlikely to happen when ordering custom electric bicycles. Choose the manufacturer with the lowest lead time. That way, you will manage to replenish your stock faster if a need arises in the future.
Service
After-sale services should not miss from the list of factors to consider when searching for a Chinese electric bicycle manufacturer. These factors will determine whether you will form long-term relationships with the manufacturer. Make a film when unboxing your first parcel and confirm that it contains everything you ordered. Also, ensure that the appearance is according to your requirements.
Most importantly, ensure that none of the bicycles has a scratch. If there are any defective pieces, contact the supplier with the video and pictures as proof. They may refund you or replace the defective items. If they are not ready to do that, it is time to search for another supplier.
How Often to Service Electric Bike?
Keeping an electrical bicycle in the right condition is important because it saves money and keeps the bicycle running smoothly for many years. It also eliminates the chances of mishaps when riding. Thankfully, electrical bicycles require minimal maintenance as their batteries and motors are sealed.
After buying a new e-bike, you should have it checked within the first 100 miles because the cables can stretch and the bolts settle. The dealer will adjust the gears and ensure that all the bolts are tight. After that, you can have bicycle services after every 6-12 months. Remember to clean the bike regularly.
Which Electric Bike is the Best?

Selecting the best e-bike is a personal decision. You should consider various factors including speed, price, assembly, and mileage. If you are planning to use it for daily commuting, you will need a light, durable, and easy-to-store bicycle.
And if you are planning to carry large items or passengers, then an electric cargo bicycle is a good choice.
Which Electric Bike Should I Buy?
Riding an electric bicycle for the first time may feel like discovering something new. That is for the reason that pedal-assist e-bikes extend the two-wheel possibilities. You can move smoothly in stop-and-start traffic and haul your cargo and kids.
Further, you will arrive at your destination less sweaty and enjoy a higher speed. However, the market offers two types of electric bikes. They include mountain bikes and road bikes. Manufacturers break the two types into many categories, such as hybrid bicycles, urban bicycles, mountain bikes, cargo bikes, and cruiser bikes.
Electric bikes are also divided into three classes – Class 1, Class 2, and Class 3. The class 1 bike have a motor that kicks after you pedal and stops when you attain 20mph. Class 2 bikes have a pedal-assist mode and a throttle-powered mode while Class 3 bikes are solely pedal-assist but the assistance continues up to 28mph. Class 1 bikes are affordable and ideal for beginners. Class 3 bicycles are faster and more powerful.
Therefore, they are a better choice for people who have to haul heavy loads and climb many hills.
Top 10 Reliable Electric Bike Suppliers in China
Most electric bicycle manufacturers in China do not produce all components in-house. At most, they produce the frame and some metallic parts and purchase the other electrical and mechanical components from subcontractors. Here is a list of e-bike manufacturers in China to try.
1. Zhejiang Luyuan Electric Vehicle Co., Ltd.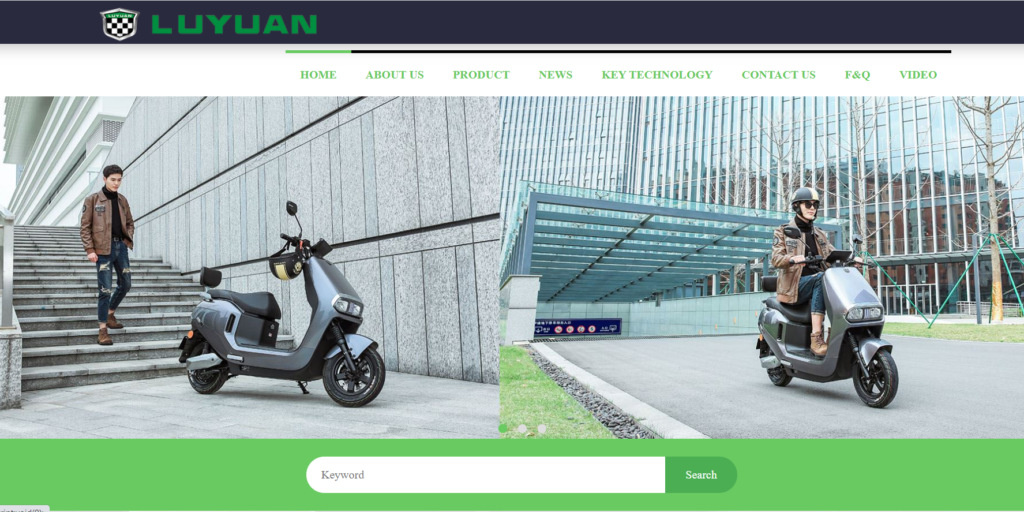 Founded by Mrs. JihongHu and her team in 1996, Zhejiang Luyuan Electric Vehicle Company Ltd was among the first e-bike manufacturers.
The company has been focusing on the production of two-wheel electric vehicles such as electric motorcycles, electric bicycles, and electric scooters. The company further offers electric tricycles and sight-seeing electric cars.
Its factories in Fujian, Jiangsu, Guangdong, Zhejiang, Shangdong, and Vietnam lie on a 1,330,000 m2 space and offer 6 million e-vehicles per year. The company targets city commuters, and students.
2. Jiangsu Xinri E-Vehicle Co., Ltd
Launched in the year 1999, Jiangsu Xintri E-Vehicle Company Limited is among the leading e-bike parts suppliers.
The company specializes in the R&D, production, and distribution of electric vehicles, electric bicycles, and key spare parts and bicycle components.
It owns three production bases in Tianjin, Wuxi, and Xiang Yang along with six enterprises in China. It employs 5,000 people and its annual production capacity of electric vehicles stands at 2 million units.
It is CE, EN15194, EEC, and DOT certified. Most of its products are exported to the US, Europe, Asia, and Africa.
3. Zhuhai Shuangye Electronic Technology Co., Ltd
This is among the most reliable companies in our list of e-bike manufacturers in China.
The company was launched in 2010 in Zhuhai, mainland China, and it produces electric bicycles, e-bike batteries, and e-bike conversion kits.
It offers reliable quality products along with after-sale services for its global customers. Furthermore, it supports both ODM and OEM services.
Its factory has passed EN15194, TuV, CE, UN38.3, and MSDS certificates.
4. Shenzhen Huatuomingtong Technology Co., Ltd.
Shenzhen Huatuomingtong Technology Company Ltd is another leading company in our list of top e-bike manufacturers in China.
Established in 2010, this company has a factory that occupies 2000 square meters, situated in Shenzhen, Guangdong, China.
It mainly produces unicycles, self-balance scooters, electric bicycles, and 2-wheel electric scooters. One great thing about this company is that its products are popular in China and other parts of the world.
5. Shangqian Technology (Dongguan) Co., Ltd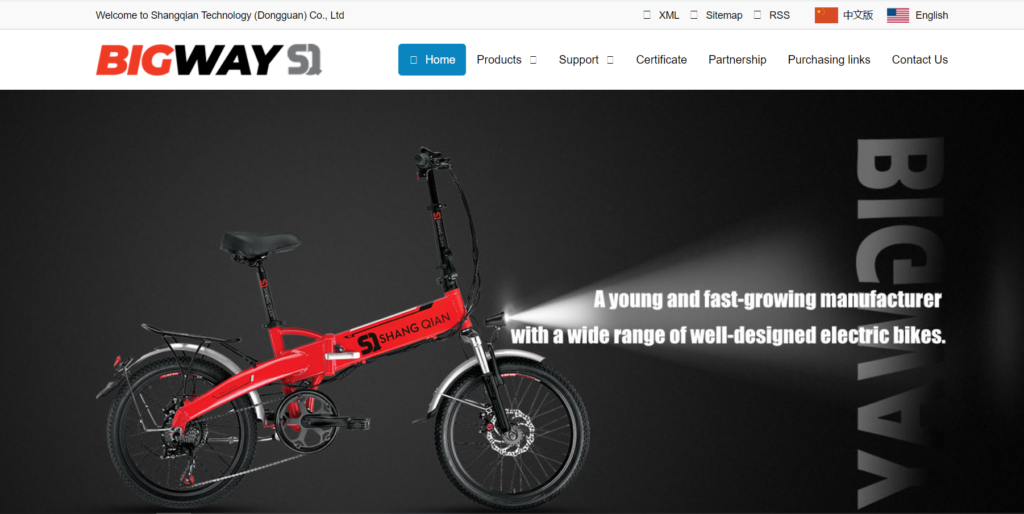 Shangqian Technology (Dongguan) Company Ltd rarely misses the list of top electric bicycle manufacturers in China.
It specializes in the R&D, production, and marketing of electric bicycles.
The company's strict production management guarantees high-quality products and a short lead time for shipment. It has customers in many parts of the world.
6. Jinhua Jobo Technology Co., Ltd
Jinhua JOBO Technology Company Ltd is part of the Jiabao Vehicle Company Ltd and a top e-bike supplier.
For the last 20 years, this company has been producing electric bikes, electric scooters, and electric tricycles. It also produces electric skateboards, beach cruisers, mountain bikes, and Dutch bikes.
All their bikes meet the EN 15194 standards and have more than 40 certificates from TUV and SGS. They deliver over 3000 quality e-bikes each month.
7. Dongguan Yama Vehicle Co., Ltd.
For people looking for the largest e-bike manufacturer in China, Dongguan Yama Vehicle Company Ltd is worth considering.
The company has been manufacturing electric scooters, electric bikes, and electric motorcycles since 2006. Its electric bicycle factory situated in Dongguan has a capacity of 300,000 units per year.
The company exports the products to Europe, Asia, the Middle East, and other parts of the world. They accept both OEM and ODM orders.
8. Wuxi Muodou Intelligent Technology Co., Ltd
Wuxi Moudou Intelligent Technology Company Ltd is a subsidiary of Jiahao Group.
Established in the year 2018, this company is headquartered in Xishan Industrial Park, Wuxi City, Jiangsu Province and it is committed to the R&D, production, and sale of new electric vehicles.
It has three manufacturing bases in Tianjin City, Taizhou, and Wuxi. The production bases cover 120,000 square meters and they have 5 automatic production lines that release 1.2 million gasoline motorcycles, and electric vehicles.
9. Xiangjin (Tianjin) Cycle Co., Ltd
This electric bike wholesale supplier supplies bicycles to many parts of the world.
The company offers reliable quality bicycles, fine workmanship, and world trendy designs. It has established reliable worldwide networks that have helped streamline its operations.
You can order OEM and ODM products from this manufacturer. The products from this company are CE certified.
10. Ningbo lvkang vehicle Co., Ltd
Ningbo Lvkang Vehicle Company Ltd is among the top electric bike manufacturers in the world. It supplies electric bicycles and electric bicycle parts in all parts of the world.
Its factory, located in Yuyao City, Zhejiang, covers 10,000 square meters and produces 30,000 units of electric bicycles, and electric bicycle parts per month.
All its products are EC, European CE, EN15194, RoHS, and ISO9001:2008 certified.
Why Choose Huntersourcing as Your Electric Bike Manufacturer China Sourcing Agent?

Huntersourcing agents know all the ins and outs of the import and export business in China. They will find the best supplier for you, visit the factory to see what is happening, and report to you.
Further, they will ensure that you have only hired the right electric bicycle manufacturer so that you can get high-quality products. Here are the key services that Huntersourcing offers.
Products Sourcing

Import & Export Consulting

Samples Collection & Quality Inspection

Factory Audit

Price & MOQ Negotiation

Order follow-up

Quality Inspection

Free Warehousing (60days)

Goods Consolidation

Amazon FBA Service

Low-cost shipping door-to-door Solution

Products Photography
Conclusion
Sourcing electric bicycles from China means that following up with the suppliers is hard. Monitoring the production will be hard and you might get inferior products.
Further, communication between you and the manufacturer can be inefficient and unclear if you are not fluent in Chinese. One of the best ways of making the process hassle-free is by hiring a sourcing agent, like Huntersourcing.
Huntersourcing will find the right supplier, and do the due diligence. We will check the samples, monitor the production, and send the finished goods to you. There is no need of traveling to China.
Related Post
Contact Us Get Free Quote!
* Please kindly fill out the form for inquiry
* we will reply to your inquiry within 24hours