Import Advantages with China's Sweater Manufacturers
1. What Is The Material Of The Sweater?
The material of a sweater can vary. It is a very subjective topic because everyone has different opinions about what the material should be. You may want to wear a sweater in the winter but prefer something lighter in the summer.
Manufacturers can use many materials to make sweaters. These materials include wool, cashmere, silk, and cotton. Each type of material has its particular advantages and disadvantages when it comes to making sweaters.
Cotton yarn
Cotton yarn is the most common material for making sweaters. It is a natural fiber, meaning it does not need to be washed after wearing it. Cotton yarn is also very soft and breathable.
The cotton yarn has many benefits over other materials but has some disadvantages. The main disadvantage of cotton yarn is that it takes longer to dry and may become damp after washing it. That can cause the sweater to become mildewed or moldy if it gets wet too often.
Recycled yarn
The recycled yarn is made from old sweaters worn out or damaged. The yarn is often recycled from old sweaters that were discarded because they were no longer in good condition. The recycled yarns are blended with new yarns to create a new sweater. That makes them more affordable than other types of sweaters because they do not have to be made from new materials.
Acrylic yarn
Acrylic yarn is very popular for sweaters because it is washable and dries quickly. It also has a great stretch factor. Because of this, acrylic yarn is perfect for making sweaters that can fit a variety of body shapes and sizes.
Antibacterial
Antibacterial fabrics are usually made of polyester, nylon, and polyester blends. They are very durable and can be dressed up or down easily. The antimicrobial properties in these fabrics help to prevent the growth of bacteria on the fabric itself. That is important because bacteria can cause unpleasant odors in your sweaters and other clothing items over time.
Yarn cashmere yarn
Cashmere comes from an animal called the goat (or sheep), which produces a fine fiber from its undercoat after being shorn from its body. It comes in many colors and textures depending on how much has been shorn off during production; some cashmere can be very light.
Wool yarn
Wool is one of the most popular fibers in making sweaters because it keeps you warm without being too heavy on your body (making it easier to move). Wool also has great insulating properties, which make it ideal for cold weather conditions. The downside of wool is that it tends to be slightly scratchy against bare skin, so make sure you wear something underneath your sweater if you plan on wearing one outside.
Mohair yarn
Mohair is a very soft, luxurious, and warm material. Mohair yarn is thick, soft, and warm. It also comes in many colors: black, brown, gray, and white. Mohair is also available in a wide range of weights, from extra light to extra heavy.
Silk yarn
Silk yarn is the best material for making a sweater because of its softness and lightweight. It is also very comfortable because it provides warmth but does not weigh you down.
The only problem with silk yarn is that it is expensive. You will need more yarn to make a sweater, which means it will cost more than other types of sweaters.
2. What Sweater Material Is Warm?
The best sweater material for winter is wool. It is warm, comfortable, and breathable.
Wool is one of the oldest materials used to make clothes. It has been around since before we had needles and thread. And it has been used in every era, from ancient Egypt to modern-day Alaska.
3. How Are Sweaters Made?
People make sweaters by knitting or crocheting them. The process starts with a blank piece of washed and dried fabric. That is called the base material. Next, sew it together at the back and front edges with a special yarn called yarn. Different designs can be produced by changing the way the sweater is knit.
The yarn is then knitted or crocheted into the sweater, starting at one end and working to the other in one continuous piece of filling yarn. When this is done, it is turned inside out so that the right side shows on both sides of the sweater (called right-side out), or it can be folded over on itself (called wrong-side out).


If you look at your sweaters or sweaters that have been made for you, you will find that they have been sewn together at each edge. That makes it easier for you to wear them because no ends stick out like in most knitted sweaters
4. How Much Do Sweaters Weigh?
The weight of a sweater depends on its material and design. Wool is heavier than polyester but provides better insulation than cotton or other fabrics. There are many different types of wool out there, including cashmere and alpaca; these textiles take longer to spin into yarn but have higher levels of warmth and wicking properties (they absorb moisture from the air). They can feel nice on the skin too.
There are many different types of sweaters: vests, cardigans, and pullovers are just some examples. These garments vary greatly in weight and thickness (generally speaking). A sweater made from thick wool will weigh much more than one made from thin fabric like cotton.
5. How Much Do Sweaters Cost?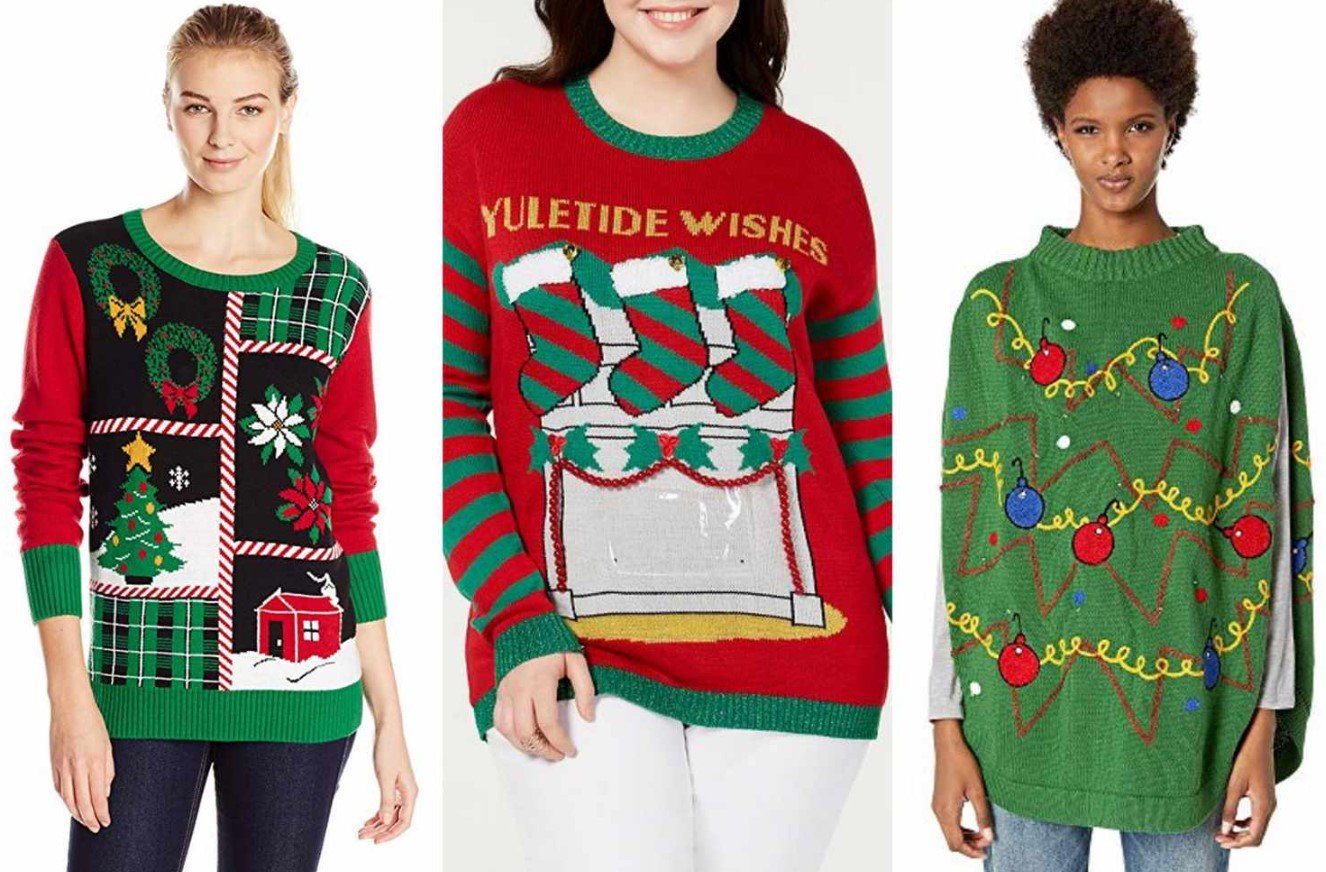 The answer depends on several factors, including the brand, fit, and size.
The best place to start is by looking for the price range for each sweater you want. Some brands offer free shipping if you spend more than $50, while others charge more for shipping depending on the size and weight of your order. If a brand does not offer free shipping, it might be worth checking out its other products to see if you can find some similar items at lower prices that are still within your budget.
After narrowing down your list of sweaters based on price range, it is time to head to your local department store or shopping mall to check them out in person. Many stores have dressing rooms where you can try several different styles before making a purchase.
6. What Sweater Pattern Can Be Customized?
You can choose from many different types and patterns of sweaters. The first thing to know about these sweaters is that they come in all shapes and sizes. They can range from very large to very small, depending on how much space you want to fill in your closet with clothes. The most important thing about sweaters is that some patterns are more easily customizable than others. They include:
Links Intarsia
That is a very popular pattern when it comes to sweater customization. You can make a lot of different patterns out of this one. The main thing about this pattern is that it allows you to customize its look by changing the color of the yarns used for each link. If you want your sweater to be more colorful and vibrant, choose a bright color like red or orange. If you want your sweater to be less colorful, then choose a color like black or white. You can also make your links stand out by using different colored yarns for each link.
Full cardigan
A full cardigan is one of the most common types of sweaters that you can find at your local stores. It is a long-sleeved sweater that comes in all colors and patterns. The pattern on this sweater is usually plain and simple, but if you want to change it up, you can always add some extra details.
Half cardigan jacquard
Half cardigan jacquard is one of the easiest to customize. You can choose from many colors, patterns, and styles to make this sweater your own. This sweater has two side pockets that are placed on the front side of the sweater. These pockets allow you to store small items such as keys or money to keep them safe from theft.
Tie Dye
Tie-dye sweaters are one of the most popular and versatile patterns you can find. This type of sweater is ideal for those who want to add a little color to their wardrobe without committing to wearing the same color throughout the year. Tie-dye sweaters are easy to customize, as they come in many colors, patterns, and sizes. The only limitation of this type of sweater is that it is not always available in every size or style.
Pointelle
Here is a great pattern for those who want to create their own look. It is called pointelle and consists of small dots placed in different patterns. You can use this pattern to make any outfit unique.
Embroidery
Embroidery is the most popular option when it comes to customizing your sweater because it offers a lot of options when it comes to color, design, and size. You can choose any color for your embroidery and then match it with any other color or pattern on the sweater itself. If you are looking for something more traditional, you can opt for monograms, which will make your sweater look more personal than plain old embroidery.
Crochet & Hand Knit
These sweaters come in all different sizes. They are perfect for casual wear and can be worn around the house or at the office. The best part about these sweaters is that they can be personalized with your name or initials. You can also choose from many different patterns and designs.
7. Where Are Sweaters Made In China?
There are many sweater manufacturers in China, but the most popular bases are:
Dongguan, Guangdong
Hangzhou, Zhejiang
Jiaxing, Zhejiang
8. Where To Buy Sweater In China?
If you are looking to buy sweaters from China, there are a lot of sites that will help you find them. They include:
alibaba.com
made-in-china.com
dhgate.com
globalsources.com
aliexpress.com
chinabrands.com
huntersourcing.com
9. Top 5 Sweater Wholesale Market In China
China is a major producer and consumer of sweaters. The country has the largest sweater market in the world. The top five sweater wholesale markets in China are:
9.1 Honghe Sweater Market(Jiaxing)
9.2 Waitan Sweater Wholesale Market is located at No. 8, Qiutao Road, Hangzhou City, Zhejiang Province.
9.3 Xindadi Knit Clothing Market
9.4 Dalang Sweater Market
9.4 Hangzhou Sijiqing Garment Market.
10. What Consider When Importing Sweater From China?
Importing sweaters from China is a popular choice for many fashion brands. The reason for this is that the quality of Chinese sweaters is often better than what you can find in other countries. That can make it a good choice for those looking to save money on their next purchase.
However, there are certain factors that you will have to consider when importing sweaters from China. This section will discuss these factors and how they can help you find the right supplier for your needs.
Design
Another factor you should consider when importing sweaters from China is their design and texture. A sweater with interesting designs would be suitable for both men and women. However, if you plan on wearing this particular piece alone, it should be simple enough not to distract from your overall look.
The color scheme and style are some of the main components of design. The color scheme should match your preferences as well as the brand identity that you have worked hard on creating over time. It also needs to fit within the theme of your brand so it does not clash with anything else in your collection or website layout.
Custom
Custom is one of the most important factors when importing sweaters from China. Custom means you can make your product according to your specifications and preferences. In other words, if you want a sweater with a specific design and color, you can get it done.
However, custom tends to be more expensive than off-the-shelf products. That is because it takes longer for manufacturers to produce custom products compared to regular ones.
In addition, custom products often have more problems when they arrive in South Africa because they are not tested against South African standards before being shipped out. That can mean that some of them may not work properly or even cause harm if used incorrectly.
Material
The material of a sweater is one of the most important factors when importing sweaters from China. A good supplier will offer you various materials, including cashmere, merino wool, and acrylic. However, these materials can be expensive depending on the type and quality of the sweater.
For an inexpensive option, it is best to look at synthetic sweaters made from acrylic or polyester fibers. These sweaters are cheap because they are made from synthetic fibers that can be produced with minimal resources such as water and electricity.
Size
The size of the sweater can also be an important factor when selecting a supplier for your next purchase. That is because some companies may only offer one size while others may offer multiple sizes, so customers can choose from among them depending on their needs and preferences.
Sample
A sample is very important when selecting the right supplier for your needs. That is because you can determine how well the supplier can deliver on their promises.
The best way to find out what kind of sample you need is by asking them for a few samples of their sweaters. It would help if you also asked for samples similar to the design and style of the sweater you want to purchase.
Price
It is also important to determine how much your supplier charges per sweater before deciding on their pricing structure or products. It is always best if you can get more information on their pricing structure before making any purchase. That way, you will get more insight into their costs and prices so as not to overspend or underspend on something else.
Compare prices with other suppliers to find one that provides quality products at an affordable price. That can be tricky as suppliers may offer different terms based on their business model.
The best way to get a good deal on your sweater is to make sure that you choose a supplier who offers bulk discounts. You should also ensure you get the best price for your order.
MOQ
The first factor to consider when importing sweaters from China is the MOQ. The MOQ stands for Minimum Order Quantity and determines how many units you need to purchase when ordering goods from a supplier.
That is because certain factors can affect how much you will pay for your purchases. For example, if you are purchasing sweaters from China with a large MOQ, they will be able to sell them at a lower price than if they had a small MOQ. That means the supplier can reduce the cost of their goods by offering them at a lower price.
However, there are certain times when it is better not to go with a large MOQ, as most suppliers charge more for these items because they have more work involved in producing them. If you choose this option, ensure that you have enough people working on your project so that no issues arise due to a lack of human resources.
Payment
The first thing you will have to consider when importing sweaters from China is the payment method. Several options are available, including cash on delivery (COD), bank transfer, and credit card.
If you choose the COD option, the supplier will deliver your order directly to your doorstep. However, if you live in a remote area with no banks available, this could become a problem.
In addition, if you want free shipping and free returns for any purchases made through this company, then there are some conditions that need to be considered first. That means you need to look at all of these aspects before making any final decision about whether or not it would be a good idea for you to use their services in the first place.
Quality
The next factor you need to consider is the quality of the sweaters. You might not be able to tell by looking at them, but certain indicators can help you determine whether or not a sweater will last long enough for you to use in your next fashion project.
One sign of quality is how soft the material feels when touched. If it feels too rough or stiff, it might not be as soft as what you expect from a garment made from wool or other materials used to make sweaters. Another sign of quality comes from how well-made the stitching looks on a sweater's surface area. If there are any loose threads or uneven stitches, this can indicate problems during production or manufacturing processes that could lead to poor quality control procedures.
Delivery
If you are looking to import sweaters from China, then delivery is one of the most important factors that you will have to consider. If the supplier does not provide a good delivery service, it can make your job much harder.
The best way to ensure you get a good delivery service is by asking questions. It would be best to ask them how long they have been providing deliveries and how often they have failed to deliver an order. That will help you determine whether or not they are reliable enough for your needs.
11. Top 10 Best Sweater Supplier &Factory In China
Sweaters are one of the most popular and fashionable garments in China. They are available in various styles, fabrics, and patterns. The best sweater manufacturing suppliers in China have a long history of producing quality goods at affordable prices.
China is one of the largest sweater suppliers in the world. It is one of the best sweater manufacturers for men, women, and kids. The best quality sweater that you can buy from China is made by top factories in China. These factories produce great quality sweaters at a very reasonable price.
The following list includes the top wholesale sweaters suppliers in China:
11.1 Halo Industries Limited
Halo Industries Limited is among the leading global knitwear suppliers. The company manufactures its products in China's production facilities, located in four cities: Guangzhou, Jinggangshan, Shenzhen, and Huizhou.
Halo has a strong reputation for quality control and customer service. It also offers tailored products that can be designed to your specifications, making it your best custom-knit sweater manufacturer. By using the company's global distribution network, you can take advantage of economies of scale and benefit from lower prices on your orders.
Visit http://www.haloknitwear.com/ find more information about this knitwear factory.
11.2 Dongguan Better Garment Co., Ltd
Dongguan Better Garment Co., Ltd is located in China and provides high-quality Sweaters. It has over ten years of experience working with different garments and has the most advanced facilities for its production. The sweater manufacturer has also received ISO 9001:2008 certification from the Ministry of Commerce.
Dongguan Better Garment Co., Ltd has many customers from around the world, including fashion designers in China, Europe, the USA, and Korea. Halo Industries Limited is one of the most famous suppliers of sweaters in China.
You can always find more details about this company at http://www.bettergarment.com/.
11.3 Dongguan Jiayan Woolens Co., Ltd.
Dongguan Jiayan Woolens Co., Ltd. is a leading independent supplier of premium sweaters and accessories to global retailers.
The company has been specializing in producing the best quality sweaters, cardigans, and pullovers for more than 20 years, and it has a professional team to provide excellent service for clients from all over the world.
The company has been manufacturing and exporting high-quality knitwear products such as sweaters, vests, pullovers, hoodies, and t-shirts to over 100 countries worldwide.
Most of these sweaters are exported to Europe and North America, where they are sold under various brands such as Nike, Adidas, and Puma.
If you are trying to find wholesale sweaters suppliers, you should check out https://www.dgjiayan.com/ and browse the available products.
11.4 Guangzhou Junma Apparel Co., Ltd
Guangzhou Junma Apparel Co., Ltd is a leading knitwear and sports apparel producer in China. Guangzhou Junma Apparel Co., Ltd has a strong reputation for quality products, competitive pricing, and excellent customer service. It has the latest brands to offer you competitive prices and high-quality products.
Since its inception, the company has provided customers with the best services like product design, customization, delivery time, etc. It is also popular for its prompt payment on all orders as well as timely delivery of products.
Another reason why it is the best sweater manufacturer you can trust as your sweater factory is that it offers top-notch customer service.
For a clear idea of what Guangzhou Junma Apparel Co., Ltd has in store for you, visit http://www.jmsweater.com/, which is its official website.
11.5 Zhejiang Shindai Cilia Knitting CO.LTD
Zhejiang Shindai Cilia Knitting CO.LTD is a famous sweater manufacturer in China. The company manufactures high-quality sweaters, sweatshirts, hoodies, and other garments. Its main product line includes men's sweaters and women's sweaters. The company exports its products to Europe, Southeast Asia, and the Middle East countries.
The company operates from Zhejiang province, a famous knitwear manufacturing base in China. It has been providing its customers with high-quality products at a reasonable price for many years.
The company is among the most trusted knitwear manufacturers, with more than 200 employees and an area of 5,000 square meters that can produce up to 20,000 pieces of sweaters per month with advanced knitting machines and inspection systems. It welcomes new customers to visit them any time at their office or factory if they want to discuss more details about how the company can help them achieve their business goals through our services or products.
The company also invites potential customers to check its official website, http://www.cilia-garment.com/, for more details.
11.6 Hangzhou Besser Apparel Co., Ltd.
Hangzhou Besser Apparel Co., Ltd is one of the leading cardigan manufacturers in China. They have been in the industry for decades and have a great reputation for their superior quality products, competitive prices, and prompt delivery.
The company has its factory located in Hangzhou, China which offers all kinds of sweaters, jackets, and other clothing items, such as T-shirts, sweatshirts, hoodies, etc., at reasonable prices. The company got an award from the Ministry of Commerce of China as one of the best-knit sweater manufacturers in China with its unique designs and quality products.
The company has been operating successfully over the years due to its ability to provide customers with high-quality products at an affordable price while maintaining high ethical standards in business operations. Visit https://www.besserapparel.com/ to view its offers.
11.7 Dongguan JianLi Woolens Co., Ltd
Dongguan JianLi Woolens Co., Ltd is a famous sweater supplier in China. It is one of the best cashmere sweater manufacturers in China, with many years of experience and a good reputation in the market.
As a professional sweaters supplier, we are always glad to do our best for our customers to satisfy their requirements. The product quality is very good, and our factory has a high production capacity and advanced technology. Their products have been exported to over 30 countries, including the USA, Canada, Mexico, Russia, etc.
The company sincerely welcomes customers from all over the world to visit its official website at https://www.knitwearcustom.com/.
11.8 Hebei Grand Cashmere Co., LTD
Hebei Grand Cashmere Co., LTD is a sweater factory in China that has been around for over 30 years.
The company is known for producing a wide range of sweaters for both men and women. Their products include sweaters made from 100% cotton and ones made from acrylic fibers or other materials like polyester or silk thread. They also produce sweaters from wool and cashmere materials, which are very popular among buyers because they can keep you warm on cold days but will not make you feel sticky or uncomfortable at night when you wear them to bed.
One thing that sets Hebei Grand Cashmere Co., LTD apart from many other wool sweater manufacturers in China is the fact that they have their brand name for their products, which means that you can be sure that you will receive only high-quality clothing from this company. Visit https://www.grandcashmere.com/ for more information.
11.9 Jiaxing Shunxin Sweater CO., LTD.
Jiaxing Shunxin Sweater CO., LTD. is one of the most popular sweater companies in China, located in Jiaxing City. With more than 100 years of history, it has been providing high-quality sweaters to customers worldwide. It is one of the largest men's sweater manufacturers in China, with over 1,000 employees and 20 production lines.
The company has developed its advanced technology, including knitting machines, other related components, knit-making clothes accessories, and so on. The company has also established a complete quality management system to ensure the quality of products and services.
In addition to providing high-quality products and services, Jiaxing Shunxin Sweater CO., LTD. also focuses on maintaining good relations with customers by providing personalized service for each customer based on their needs and requirements. Therefore, if you are looking for custom knitwear manufacturers in China, look no further than Jiaxing Shunxin Sweater CO., LTD.
You can find more details about the company at https://www.sanlinjx.com/.
11.10 Zhejiang juepaier knitwear CO., LTD
Zhejiang juepaier knitwear CO., LTD is a sweater manufacturing factory in China with many years of experience. The company is committed to providing high-quality sweaters at an affordable price to its customers worldwide.
The company offers different sweaters for different occasions, such as sports and fancy dress wear.
In addition to that, they offer custom-made sweaters according to your requirements. For example, they can make a customized sweater with your logo or design on it. Customers can find more information about this company by visiting https://www.juepaier.com/.
12. Sweater FAQ

12.1 When is sweater season?
The sweater season varies from place to place. If you live in a very warm climate, then sweater season is year-round. However, if you live in a cooler climate, then sweater season only starts in the fall and lasts until spring.
The most important thing to remember about sweater season is that it is not necessarily a time when stores have the biggest selection of sweaters. It is also not always the best time to shop for sweaters because many people are looking for winter clothes at this time of year, and there may not be any good deals on sweaters at that time of year either.
12.2 Which sweater is best for winter?
The best sweater for winter is the one you can wear every day, which looks great. If you are just getting started, try a basic pullover or cardigan. You can also add interest with a scarf or other accessories, such as a hat or gloves.
Merino wool is made from the finest fibers found in sheep's wool. It is extremely soft and luxurious, so it is hard to beat when it comes to warmth and comfort. A wool sweater is warmer than an acrylic sweater but will not be as warm as a Merino sweater.
12.3 How often wash wool sweaters?
Washing your sweater is very important to keep it clean and to look good. If you do not wash the sweater often, it will get dirty quickly and not look as good as it did when you first bought it. The best way to tell if your sweater needs to be washed is if any stains on it will not come off by just washing them with soap and water.
12.4 Which sweater is the warmest?
The answer depends on a few factors:
The type of fabric used: If you have a wool sweater, it will be warmer than a cotton or polyester one.
The thickness of the material: Thinner materials are usually more lightweight and breathable and, therefore, less warm than thicker fabrics.
How well the garment fits you: A well-fitted garment is much warmer than an ill-fitted one.
12.5 How long do sweaters last??
Sweaters last for years, and you can even get a second use if you treat them well. The best way to keep your sweater looking great is by cleaning it regularly and removing any dirt or stains as soon as they appear. If you do not want to wash your sweater, it is still possible to clean it with little effort.
It all depends on how often you wear them, how much wear and tear they receive, and how well the materials are treated. The general rule is that sweaters last anywhere from one year to five years before they need to be replaced.
You can also expect your sweater to last longer if you take care of it properly by washing it regularly and removing any stains as soon as they appear.
13. Why Choose Huntersourcing As Your Sweater Sourcing Agent?

Huntersourcing is one of the leading product sourcing agents for suppliers of importing sweaters from China. The company has a team of experienced professionals who can assist you with all your needs related to sweater-sourcing agents from China.
They will help you reach out to manufacturers, wholesalers, retailers, etc., so you can buy your requirements at competitive prices without compromising on quality or standards. In simple terms, Huntersourcing is an experienced one-stop supply chain management agent that also takes care of shipping and logistics to ensure that importers get their products without delay.
Huntersourcing will also help you with price negotiation to ensure you get quality products at the lowest prices. Its team of professionals helps with customs clearance to ensure your goods arrive without any problem.
The sourcing agent can help you design samples and ensure that you only buy from a supplier that adheres to quality control measures. It conducts factory audits on every supplier they work with.
Summary
The demand for sweaters is increasing day by day. There are many brands and styles of sweaters available in the market. To ensure that you are importing your sweaters from the best supplier, you should work with an experienced sourcing agent like Huntersourcing.
Contact Huntersourcing today to find out how they can help you ease your importation experience.
Related Post
Contact Us Get Free Quote!
* Please kindly fill out the form for inquiry
* we will reply to your inquiry within 24hours