13 Ways To Find Wedding Dress Manufacturer From China
1. Wedding Dress Trends 2023
The wedding gown industry is growing, and the demand for wedding dresses is growing. The most popular wedding dress trends in 2022 were lace, boho, embroidery, and color. The trend will not change much in 2023 as lace and embroidery will likely remain popular.
Everyone is talking about climate change. So, we will likely see many brides going for eco-friendly wedding dresses.
The wedding dress trends for 2023 will also emphasize simplicity and natural beauty. Many brides will wear customizable dresses without accessories like veils or headpieces. The most popular picks are likely to be short and off-the-shoulder.
In addition to less embellishment, brides will avoid lace or other heavy fabrics when designing their dresses to focus on the finer details like cutout details on sleeves and skirts and ruffles around necklines or sleeves.
All brides want to look like princes on their wedding day. Since most media personalities portray elegant looks, many women will choose social media influencers' picks.
2. Wedding Dress Material
The dress is an essential part of your wedding outfit, so make sure you choose a suitable material. Wedding dresses come in many different materials and styles: satin, chiffon, organza, and lace are just some of them.
Here are some of the most common materials used for making wedding dresses:
Lace is a fabric made from interlacing threads of yarn. It has a smooth, silky texture that allows it to drape beautifully, making it one of the most popular materials used for making wedding dresses. The softness of lace makes it an excellent choice for brides who want to feel delicate and graceful on their big day.
Tulle is a lightweight, sheer fabric that has a translucent appearance. You will find it in bridal stores and wedding dresses, which use it to make the gown train. People also use tulle to make other wedding outfits like veils and headpieces.
Satin is an exquisite fabric used to create soft and smooth materials. It is often used in evening gowns because of its shimmering look. It also has a silky feel which makes it suitable for weddings.
Crepe is one of the most popular materials for wedding dresses. Crepe has a matte finish and is very light in weight. That makes it an ideal choice for summer wedding dresses. Crepe requires no special care, and users can wear it multiple times.
Chiffon is very similar to satin, except that it has more body than satin (hence its name). That means it tends to have more movement than satin, and you can wear the dress in warmer weather without feeling too heavy on the skin.
3. What Wedding Dress Style Import From China?
There are many different types of wedding dresses available on the market. Whether you are looking for a bridal dress, a fit and flare bridal dresses, a line wedding dresses, or a mermaid bridal dresses, you can find it all from manufacturers in China.
You can also order ball gown bridal dress, long sleeve bridal dress, lace bridal dress, and other styles. However, it would be best to be careful when choosing one because some styles may not suit your business. For example, if you sell bridesmaid dresses or prom gowns, you will want to choose a short dress so your customers can wear them during the ceremony and reception.
Longer dresses will work best with these events because they allow you to move around quickly during dancing or other activities without worrying about tripping your train or hemming it out of the way when walking down the aisle. A plus-size bridal dress is a popular choice for plump women. You should also import a boho bridal dress to cater to varied tastes and preferences.
You should also consider a strapless bridal dress because it fits various body types. It also looks elegant, making it a popular choice among wealthy families..
4. How To Find Wedding Dress Suppliers?
The market for wedding dresses is vast and growing. The number of weddings is also increasing every year. Therefore, it is vital to find a reliable vendor to provide your business with the best quality of products.
Here are some of the top B2B websites on which you can find China wedding dress suppliers:
1) alibaba.com
2) made-in-china.com
3) dhgate.com
4) globalsources.com
5) aliexpress.com
6) chinabrands.com
5. Where To Buy Wedding Dress From China?
China is the largest and fastest growing market for the wedding dress industry. The following are some of the top places to buy wedding dresses from China:
1. Guangzhou Wedding Dress Market is the place to find the top wedding dress factory in Guangzhou.
2. Guangzhou Jiangnan Avenue North
3. Suzhou Tiger Hill Wedding Dress City.
6. What Are The Risks Of Importing Wedding Dresses From China?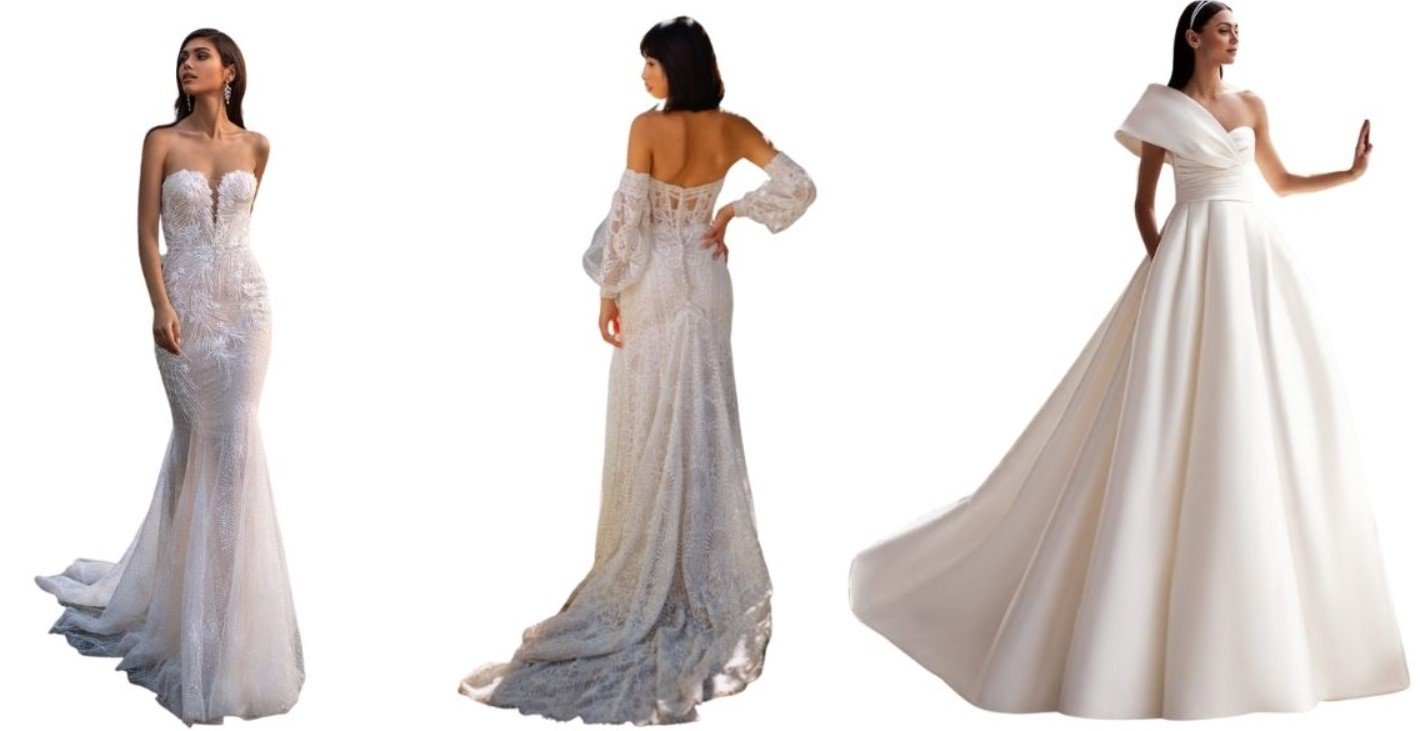 Importing wedding dresses from China is a safe and profitable venture. However, there are a few risks involved. It is essential to be aware of the possible issues and to do your research before making a purchase. Here are the potential risks:
Cheap material
It is essential to check the materials a wedding dress manufacturer uses before making a purchase. The quality of materials is something that you should not compromise. Otherwise, you might end up with shoddy products.
The quality of the material used in making your wedding dress can also affect its durability and longevity. You should avoid cheap materials because they fade very quickly.
Re-work cost
You might have to pay for re-work if the dress does not meet your specifications. That can be expensive and time-consuming.
Delay in delivery
If you buy a dress from China, you must expect some delay. It is because the products have to be shipped from China to the destination country. The manufacturers and distributors need time to ensure they deliver the product on time. Therefore, there may be a delay of a few weeks or months, depending on the manufacturer and production schedule.
7. How To Get A Custom Wedding Dress?
If you want a custom wedding dress, you must understand the process. Once you have decided on the design, you must go through various steps and timelines to make your dress. That can be confusing and frustrating if you do not know what is involved in getting your dress made.
The first step involves finding the right designer. Many designers specialize in making custom wedding dresses, but you must find one that works with your budget. It would help if you also found a designer who can work with your timeline because most designers cannot make dresses overnight. The best way to do this is by checking online reviews and references from friends and family members who have used the designer before or visiting bridal shows where they exhibit their work regularly. Before you commit to any designer, ask them for a sketch design to see if it is what you want. You can also ask your designer for private labeling if you want a unique dress.
The next step involves fabric choice. Many materials are available for custom wedding dresses, such as satin, taffeta, chiffon, and silk satin, which come in different colors such as reds, blues, greens, etc. It would be best if you also considered asking your designer to make unique fabrics like lace or beading on certain dress areas, such as around the neckline or sleeves.
The third step involves production. After agreeing on the design, your designer will make your dress according to your specific requirements. The inspection face will follow where your designer invites you to inspect the dress online before shipping it.
8. How Much Wedding Dress Cost?
The cost of a wedding dress depends on several factors, including size and cut, fabric type, and whether it is made-to-order or ready-to-wear. Most brides choose designer dresses because they want to look their best on their special day. So, the price can sometimes be more than you expect. A sample wedding dress costs more than $500 if you opt for a ready-to-wear gown with no alterations. Custom orders can run up to $5,000 or more. If you work with a sewist or tailor, your final costs may be lower than what retailers will quote.
9. Which Wedding Dress Would You Choose?
Long, flowing dresses are the ultimate wedding dress choice for many. You will love how they show off your body and make you look like a goddess. They are also very versatile, and you can wear them with whatever accessories you want to add to them.
Your choice of wedding dress should depend on what kind of ceremony you are having and the venue. A long, flowing dress will be perfect if you are having a beach wedding. If you have an outdoor ceremony at a park or on the beach, it is also important that your dress does not have too many details like lace. That way, it will not get dirty or wet during the ceremony itself.
The dress should be simple but elegant if you are having a formal outdoor wedding ceremony.
Your style is the most important thing to consider when choosing your wedding dress. You want to feel confident in your choice. So, it should be something that makes you feel beautiful and unique. If you are unsure what that means, consider the type of clothes that make you feel comfortable and confident.
If you are a size 2 or 4, I would recommend trying on many different styles until you find one that fits well and looks great on you.
In addition to these options, you can also try searching online or in your local area for 3D printer manufacturers and suppliers. You can also check with specialty retailers that sell 3D printing equipment and supplies.
10. How Many Wedding Dress Accessories?
Wedding dress accessories are a massive part of the wedding experience, helping to make a bride feel like a princess on her special day. The most popular wedding accessories include:
Wedding dress box: The wedding dress box is one of the most important pieces of wedding jewelry. Not only does it look great with the dress, but it also helps preserve your gown and keep it in excellent condition for years to come. These boxes typically contain tissues and more tissues, so you can rest assured that your dress will be perfect when you get ready to unwrap it.
Wedding dress bag: A beautiful, elegant bag to carry your bouquet, veil, and other treasures is a must-have accessory for any bride. It is also an essential part of the bridal shop, where you can pick up cute ones that perfectly match your dress.
Wedding dress bra: A bridal bra is essential for every bride. It provides support to the bust and is comfortable during the day as well as at night. A properly fitting bra can make all the difference in your look and comfort level during the ceremony, rehearsal dinner, and reception. A well-fitting bra will also prevent wardrobe malfunctions if you are not wearing one.
Wedding dress hoop: A traditional accessory that adds drama to any ceremony. Manufacturers can make hoops out of metal, plastic, or wood. They come in many different shapes and sizes.
Wedding dress jewelry: Who does not love jewelry? Brides love wearing necklaces and earrings as they add an extra element of glamour that all brides need! You can find them at most bridal shops or online sites like eBay, where you can get deals on some great pieces that will match your dress perfectly.
Shoes bridal evening shoes: These are crucial to any wedding look, whether a pair of strappy sandals or wedge heels.
Other wedding dress accessories your business should consider importing alongside wedding dresses include:
Wedding dress hanger
Face mask
Headpieces
Belts & sashes
Overskirts
Bridal robes

.
11. Top 10 Wedding Dress Suppliers In China
The wedding industry is one of the most profitable industries in the world today. So, as a business, you can make a killing by venturing into this field. Wedding dress wholesale suppliers in China are an excellent way for you to save money and get access to the most beautiful and lavish wedding dresses.
It would be best to consider importing from wholesale wedding dress manufacturers for many reasons. First, wedding dress producers in China offer a wide range of styles and designs suitable for every bride's needs, including bridesmaids' dresses, mother-of-the-bride dresses, and flower girl dresses. Secondly, there are specialist famous wedding dress makers that specialize in designing bridesmaids' dresses for weddings and other special occasions such as proms or homecoming parties. Also, China bridal manufacturers can provide what you want at a price much lower than any other supplier.
Another reason you should buy wedding dresses from China wedding dress dropshipping suppliers is that you can import them into other countries without any problems.
If you are wondering where to start, here are some of the best wedding gown wholesale suppliers who will accept your orders with no problem.
11.1 Knightly Formal Clothes International Co., Ltd
Knightly is a Chinese company that focuses on formal wear and wedding dresses. It is the best wedding dress manufacturer in china. The dressmaker has been in this business for a long time, so they have a lot of experience making high-quality wedding dresses. Their products are top-rated among many brides and grooms in China.
They offer many different styles of wedding dresses such as ball gowns, mermaid style, strapless and more. Browse its inventory at https://www.knightlybridals.com/.
11.2 Suzhou HMY Wedding Dress Co., Ltd.
Suzhou HMY Wedding Dress Co., Ltd. is a professional wedding dressmaker in China. The company has more than 20 years of experience producing high-quality wedding dresses, which are handmade with the best fabrics and materials.
It is not only professional in making wedding dresses, but also has a great selection of other formal wear such as tuxedo pants, bow ties, cummerbunds, etc. You can find what you want at http://www.china-wedding-dress-manufacturer.com/.
11.3 Sichuan Yuehong Energy & Technology Co., Ltd
Yuehong is a bridal dress manufacturer that has been around for over 50 years, and they are a leading supplier of wedding dresses in China.
They offer a wide range of styles for brides, including traditional, modern, and ethnic. Their stock includes short and long dresses in many different styles and fabrics. They also have many accessories to choose from and veils and other accessories to complement your attire.
The quality of their products is excellent, especially considering their affordable prices. You can check the products at https://www.belongtex.com/.
11.4 Guangzhou Biyige Garment Co., Ltd.
Guangzhou Biyige Garment Co., Ltd. is another supplier of wedding dresses in China that offers a variety of different styles for brides who want something unique or different than what they would find at other stores.
It also has an extensive collection of accessories to complete your look and ensure it matches your theme perfectly.
The company is one of the few bridesmaid dress manufacturers that offer custom orders on their site. You can personalize your order exactly how you want it. You can visit https://www.bygwed.com/ if you are searching for made-to-order wedding gowns.
11.5 Guangzhou Melete Bridal Dress Co., Ltd
Guangzhou Melete Bridal Dress Co., Ltd is another top wedding dress supplier in China which offers a wide range of products at affordable prices to its customers worldwide.
Their collection includes classic bridal gowns, contemporary style bridal gowns, and even prom dresses that you can customize with different accessories such as veils, headdresses, and other accessories depending on your budget requirement.
Visit https://www.meletebridal.com/ to find out why this company made it to the list of our top 10 bridal gown manufacturers.
11.6 Guangzhou Angel Bridal Gown Co. LTD
Guangzhou Angel Bridal Gown Co. LTD is Guangzhou's leading wedding dress supplier. The company has become one of China's most reputable bridal wear wholesale suppliers.
They have a wide range of products for brides to choose from, including wedding dresses, bridal gowns, bridesmaid dresses, and prom dresses. The company has experienced designers and sewists who work together to make wedding dresses and ensure they meet your requirements.
You cannot go wrong with Guangzhou Angel Bridal Gown Co. LTD because it is one of your top wholesale wedding dress manufacturers, For more information, visit https://www.angelgown.com/.
11.7 Zhongshan Beauty Bridal Co., LTD
Zhongshan Beauty Bridal Co., LTD is another famous Chinese wedding dress supplier that provides high-quality products at reasonable prices.
They have over 20 years of experience designing and manufacturing wedding dresses, making them one of the best choices for any bride who needs to find bridal dress suppliers in China.
Their products are available in all top shopping malls across China, including Tmall, JD mall, and more. Visit http://www.beautybridal.cn/ to check their products.
11.8 Suzhou Yiaibridal Wedding Dress Factory
Suzhou Yiaibridal Wedding Dress Factory is another leading wedding dress supplier in China. The company sells wedding dresses online, all made by hand, and they can customize them according to your needs and requirements.
Suzhou Yiaibridal Wedding Dress Factory is one of the most trusted bridal dress wholesale suppliers because it has a team that inspects all its products before leaving the factory. The company also provides free shipping to all of its clients worldwide. It is the best choice for people looking for wedding gown manufacturers that offer free shipping.
You can check https://www.yiaibridal.com/, its official website, to find out more about its products.
11.9 Denise Wedding Dress
Denise Wedding Dress is a professional bridal gown designer and supplier in China. The company provides various wedding gowns, such as wedding dresses, bridesmaid dresses, mother-of-the-groom dresses, and so on.
The company has more than ten years of experience designing and manufacturing wedding gowns. It has a factory in Guangzhou and can produce high-quality products at a competitive price for you.
You will know that the company is one of your best bridal gowns wholesale manufacturers by visiting http://www.denise-bridal.com/.
11.10 Guangzhou Glad Bridal Garment Co., Ltd.
Guangzhou Glad Bridal Garment Co., Ltd. is a professional manufacturer of wedding gowns and wedding dresses in China. It specializes in manufacturing wedding gowns, and it received ISO9001:2000 certification.
The company makes high-quality products from imported fabrics and materials at competitive prices. Its products include bridal gowns, prom dresses, cocktail dresses, evening dresses, and party dresses. The designs are unique and elegant to satisfy different tastes in color and style.
The company can provide OEM services according to your specific requirements. Feel free to visit http://gladchina.com/ if there is any piece of information you needs.
12. Wedding Dress FAQ

12.1 Why wedding dresses are white?
White is the most popular color for wedding dresses because it symbolizes purity and innocence. You can also incorporate the color into various styles, from simple to elaborate.
If you are worried about your dress being too dull, white can give it a fresh, clean look. It is also easy to match with other colors, such as ivory or light blue, to create a unique look for your wedding day.
12.2 Will you buy evening dress from Alibaba China?
Yes, you will. As a professional e-commerce company, Alibaba China sells evening dresses at very competitive prices. The price is less than on the high street. The website is the right place to start if you want something special and unique..
12.3 Has anyone bought wedding dresses on AliExpress?
Yes, many people have bought wedding dresses on AliExpress. It is a great place to find cheap wedding dresses. The wedding dress is the essential piece of clothing when getting married. It is not just the dress that matters but also the quality and how well it fits on your body. So, it is crucial to buy a perfect dress that fits you perfectly.
12.4 What materials of wedding dress are better?
Many fabrics are available today, including satin, chiffon, and organza. Some materials come in different colors, such as ivory, blush pink, navy blue, and burgundy. The colors make wedding dresses easy to match with other accessories such as shoes.
The best materials are satin or silk. These materials are incredibly lightweight and smooth against the skin.
12.5 Can you find a dependable wedding dress factories in China?
You can start by finding a list of reputable Chinese factories online. Many online directories list the most respected Chinese factories.
You may also want to check out your local Chinese community and ask whom they know or trust. You can also search for local wedding dress shops in your area to see if they have any suppliers that you can work with..
12.6 Did you find it easy purchasing your wedding dress online?
I have to say that I was a little nervous about buying a wedding dress online. However, I was so happy that I did it! The dress arrived within two weeks of order, and it was perfect. The quality of the dress impressed me a lot. It was also a perfect fit.
12.7 Where can I design my wedding dress?
If you are the bride, you can design the wedding dress of your dreams in any country. Many companies provide services related to designing and manufacturing wedding dresses and accessories.
You can also design your wedding dress in any bridal salon, bridal boutique, or unique make-up studio. There are many of these places which provide customized gowns for weddings.
What steps to follow to start an online store for wedding dresses?
Step 1. Create a landing page that contains all the necessary information about your brand and product.
Step 2. Get a professional photographer to take your images for the website, so your customers can see how the dress looks on real women.
Step 3. Use powerful e-commerce tools on Shopify, Alibaba, Chinabrands, or any other e-commerce website to help you sell your products online.
Step 4. Make sure you have a blog where you can write about how to get married in a beautiful dress or what trends are happening in wedding dresses.
12.8 What wedding dress for my body type?
Wedding dresses come in all shapes and sizes, but it is essential to know your body type before purchasing one. If you are tall and thin, a long-sleeve tulle dress might not fit you well. However, if you are short and curvy, a lace bodice might be perfect for you.
12.9 Why wedding dresses are expensive?
Wedding dresses are expensive because they are made of high-quality fabrics and embellishments, making them unique and special. Wedding dresses are also costly because they take a lot of time to complete.
Wedding dresses are expensive because they require a lot of money and time. Wedding dresses require high-level sewing techniques that only professionals can perform well.
13. Why Choose Huntersourcing As Your wedding dress Sourcing Agent?

Wedding dress sourcing can be a very challenging process. You must find a reliable supplier to provide high-quality dresses at competitive prices. That is where Huntersourcing can help you. The company is a leading wedding dress sourcing agent in China, providing clients with the best quality wedding dresses at competitive prices. You do not have to struggle with price negotiation because the sourcing agent will do that for you.
It has a vast network of suppliers across China who specialize in manufacturing and exporting different types of dresses for events like weddings and proms. The company also has an experienced team of sourcing agents who assist brides-to-be in finding the perfect dress for their big day.
Its sourcing agents work closely with manufacturers and suppliers in different cities across China, including Shanghai, Hangzhou, Nanjing, and Shenzhen. So, it can offer professional consulting to businesses and consumers regarding fashion trends, best design, and customs clearance.
When you contact Huntersourcing to be your sourcing agent, it will suggest a few samples for you and ensure that the entire development process goes smoothly and according to the set quality control standards.
Another reason you should choose Huntersourcing as your sourcing agent is that the company conducts factory audit on every supplier and manufacturer it works with to ensure that you are getting the best quality dresses and accessories.
Finally, Huntersourcing is your best sourcing agent because it takes care of the entire importation process, from price negotiation to shipping & logistics. With Huntersourcing, you can be sure that your goods will reach you or your warehouse within the shortest time possible..
Summary
Wedding dresses are an essential part of every wedding ceremony. They are the center of attraction and a symbol of love. Designers make wedding dresses according to the requirements and tastes of every bride.
These dresses have to be of good quality and at affordable prices so your customers can be happy with your products. For this reason, you need to choose a sourcing agent who can help you get high-quality wedding dresses at affordable prices from China.
Huntersourcing is the most reputable sourcing agent you can trust. It will help make the importation process smooth and stress-free. If you are considering importing wedding dresses and other accessories from China, contact Huntersourcing to help you.
Related Post
Contact Us Get Free Quote!
* Please kindly fill out the form for inquiry
* we will reply to your inquiry within 24hours